Starbucks Indonesia will soon open the doors to all its 326 "coffee shops" across Indonesia, some of which have been closed for a period as a response to the COVID-19 Pandemic.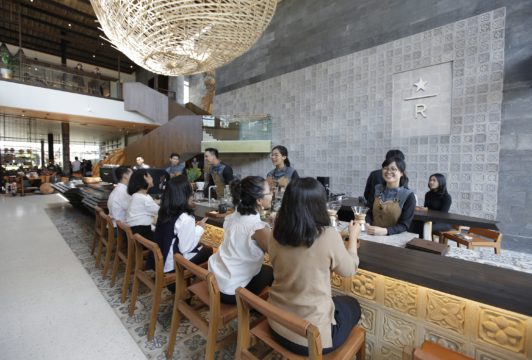 As reported by Kompas.com, Starbucks outlets in Indonesia located in office buildings and malls were closed due to a lack of customer traffic. In contrast, outlets outside those locations remained in operation, offering only take-away service.
Adjusting to the requirements of the "new normal" resulting from the continuing COVID-19 Pandemic, Starbucks Indonesia is reducing the amount of seating in all outlets to promote physical distancing. Customers are also required to wear face masks and cooperate in efforts to impose physical distancing.
Meanwhile, baristi and bariste working at the Indonesian Starbucks outlets will have their temperatures and general physical condition checked each day as they report to work. Any indication of influenza-like systems will cause workers to be immediately referred to qualified medical personnel and physically isolated, as required.
Andrea Siahaan, the Senior General Manager for Corporate Public Relations and Communications for PT Sari Coffee Indonesia, said: "At this time, we will closely and dynamically monitor the developing situation so all our outlets can continue to operate normally."
PT Sari Coffee Indonesia is the licensed franchisee of the Seattle-based Starbuck Corporation. Starbucks has an estimated 20,336 outlets in 61 countries, including 13,123 in the USA and 326 in Indonesia.
Starbucks operates some 20 outlets in Bali, including the 1,800 square meters Starbucks Dewata Coffee Sanctuary on Sunset Road in Kuta that is cited as the largest Starbucks outlet in Southeast Asia.