The Dutch artist Rudolf Bonnet (1985-1978) was a co-founder in 1936 – together with Walter Spies, I Gusti Nyoman Lempad, and Cokorde Gde Agung Sukawati of the PITA MAHA – an organization established to promote and mentor Balinese artists.
Bonnet first arrived in Bali in 1929 and lived in Ubud until 1940. With the Japanese invasion of the Dutch East Indies, Bonnet remained free until 1942, when he was sent to internment camps in Sulawesi. After the war, he returned to Bali in 1947 and built a house and studio in Campuhan. Despite souring relations between Indonesia and The Netherlands during the battle for independence, Bonnet managed to stay in Indonesia because President Sukarno admired his talent, collecting 14 of his works.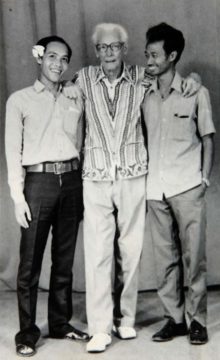 Bonnet was expelled from Indonesia in 1957 when he refused to complete a commissioned portrait of President Sukarno. Fifteen years later, Bonnet returned to his beloved island of Bali.
His return to Bali in 1972 allowed Bonnet to complete the construction of the Puri Lukian Museum in Ubud. The development of the Museum was interrupted by Bonnet's expulsion. The museum was built to house a priceless collection of paintings accumulated with his dear friend and co-founder of Pita Maha – Cokorda Gde Agung Sukawati.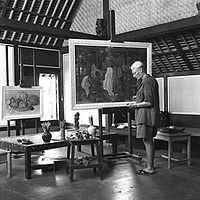 Bonnet died in Holland in 1978. His ashes were returned to Bali and placed on the cremation pyre of Cokorda Gde Agung Sukawati, who also died in 1978.
FOR PRIVATE SALE
Shown is a 1948 charcoal on brown paper drawing (44 x 32 cm) – "Orang Goenoeng Bali" by Rudolf Bonnet. Museum-quality framing. Title and year of creation are shown in the upper left-hand corner, signed by R. Bonnet in the bottom left-hand corner.
Available by private sale to serious collectors or museums. Expressions of interest can be sent by Email .