This is the story of how one man, Mario Vogel, found his life's purpose in the paradise of Bali.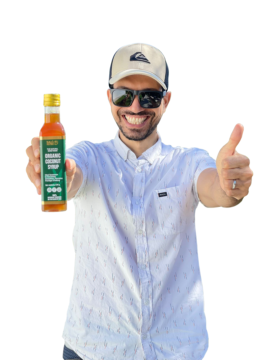 Escaping the monotony of the 9-5 workaday and moving to Bali in 2011, Mario was visited by his mother when he noticed she had swollen ankles. After further investigation, he discovered his mother was prediabetic, which he knew could be life-threatening if not quickly brought under control.
"My mum liked her sweet treats but needed a better alternative, which was hard to find in Bali. It was also important to us that she improved her diet to include more natural foods with minimal processing," Vogel explained.
Vogel's mother enjoyed the caramel flavor of the natural coconut sap, which strangely does not taste like coconut. Her favorite way to use coconut syrup was placing a spoonful in a hot cup of Earl Grey Tea with milk and drizzling the syrup with plain yogurt on top. Coconut syrup is a versatile sweetener that easily mixes hot and cold drinks.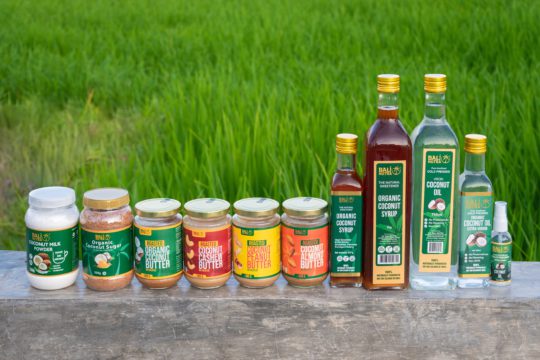 Friends and family soon started asking about the delicious coconut syrup, which led Mario to create Bali Nutra's Organic Coconut Syrup. The product proved so popular that even celebrity chef Jamie Oliver used it in cocktails and desserts at his London restaurant. Through continued testing, Bali Nutra realized that not only was its Organic Coconut Syrup great for baking, but, because it is made from the coconut palm flower, it can be used in sauces, drinks, and elsewhere as a healthy substitute for sugar or honey – suitable for use with flapjacks, pancakes, oatmeal, yogurt or as a sweetener for tea and coffee.
Over time, the growing popularity of Bali Nutra's Organic Coconut Syrup paved the way for the young company to develop eight more easy-to-use natural foods. This was the start of Mario Vogel's life's journey at Bali Nutra. "I started Bali Nutra to respond to my mother's prediabetic condition at that time when she needed a healthier sweetener, and this was difficult to find in Bali," explained Mario Vogel, the founder of Bali Nutra." Adding: "Providing quality and natural foods with minimal processing and no preservatives or artificial flavors; health and longevity are the cornerstones of Bali Nutra."
Bali Nutra, a coconut farming and processing company based in Klungkung, East Bali, offers sustainable premium export quality organic coconut products that are healthy and naturally delicious.
Bali Nutra's signature natural sweetener, its Organic Coconut Syrup or coconut nectar, has a Low glycemic Index (Low Gi) of ± 35, which is considered acceptable for people with diabetes. It also contains five essential glyconutrients, including inulin, 17 different amino acids, 13 vitamins including vitamin B1, B2, B3, B6, and C, high mineral content, and high macro & micro-nutrients.
Bali Nutra's vegan coconut syrup is excellent for baking and making homemade sweet sauces. Made from the coconut palm flower, it is a plant-based sweetener that is healthier than refined white sugar as it contains minerals like iron and zinc, as well as inulin — a fiber that will slow digestion and prevent blood sugar spikes.
BALI NUTRA Organic Coconut Syrup is a diabetic-friendly sweetener and sugar substitute. It is recommended for those looking to prevent certain health conditions, balance blood sugar levels, reduce added sugars from eating routines, assist in weight loss, and those generally looking for a healthier daily life.
BALI NUTRA Organic Coconut Syrup has received many awards, including The Great Taste Award in 2016 and 2017, and, most recently, a Gold Star 'Superior Taste Award' 2022, certified by International Taste Institute's jury of the world's best Chefs & Sommeliers.
Bali Nutra has nine products providing healthier alternatives to refined sugar and honey. They are also free from preservatives and predominantly use natural ingredients.
Bali Nutra's current range of products include:
Organic coconut syrup (Premium)
Organic coconut oil (VCO)
Organic coconut butter
Coconut almond butter
Coconut cashew butter
Coconut peanut butter
Coconut milk powder
Organic coconut sugar
Organic coconut jam.
More information on these products is available for purchase on the Bali Nutra Website .
Online orders are available via Bali Direct, Tokopedia, Shopee, and Singapore Lazada.
In Bali, Bali Nutra products are available at many supermarkets and retail outlets, including
Frestive, Bintang, Grand Lucky, Alive Wholefood, and Bali Buda.
Bali Nutra products can be purchased in Jakarta at the Bali Direct Store in The Astha Mall in District 8.
Bali Nutra's farms in Klungkung, East Bali, use the best techniques to increase the quality over the quantity of their yield and have integrated the farming process to deliver a promise of soil-to-shelf products. Their best practices have trickled down to neighboring farms and have helped make coconut farming a sustainable livelihood.
Related Links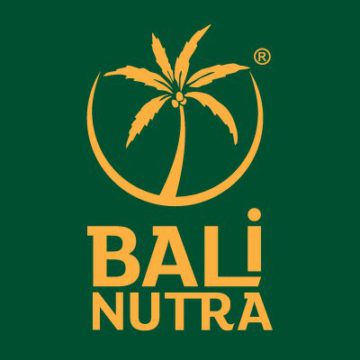 WhatsApp: +62-877-6182-0329