A team from the Denpasar Base of the Indonesian Navy assisted their counterparts from the Australian Navy in the delivery by helicopter of a desalination unit to Nusa Lembongan Island – an island located just off the shores of southeast Bali.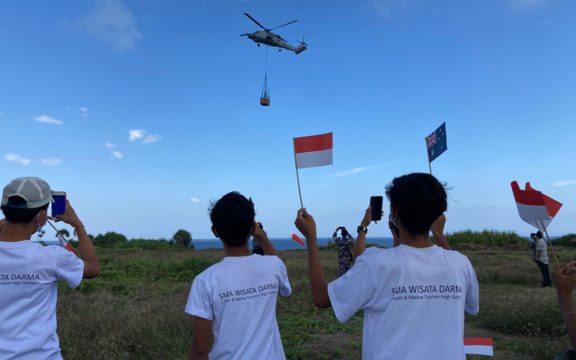 The badly-needed large capacity water desalination unit for the drought-stricken community was heavy-lifted to the Island by an MH-602 Helicopter from the HMAS Canberra – the lead ship of the Australian Navy's Canberra-class landing helicopter dock.
The Indonesian Navy coordinated the landing of the desalination unit on the Island.
The desalination unit was a gift to the Indonesian people from the Australian Surfrider Foundation with supplemental assistance provided by the Australian Government. The unit was part of a grant to the Wisata Darma High School (Yayasan Pendidikan Wisata Darma Bali) on Nusa Lembongan Island.
The Commander of the Denpasar Naval Base, Colonel Komang Teguh Ardana, told the press on Sunday, 29 August 2021: "The Indonesian Navy on behalf of the Indonesian Government thanks the Australian Government for its assistance in providing a desalinator.
Ardana informed that the donation was part of Indo-Pacific Endeavour (IPE21) – an annual Australian Defense Force initiative to engage with Southeast Asian partners beyond traditional military activities by involving supporting elements from the Australian Government.
Since 2017, IPE has promoted security and stability in the region through bilateral and multilateral engagement, training, and capacity building. In the current year, the Task Force is centered on two Royal Australian Navy ships.
The Indonesian Naval Base in Denpasar Bali coordinated safety and security for the equipment transfer working together with the I Gusti Ngurah Rai Naval Squadron in Bali, the Regional Military Command (Koramil), the Indonesian Police, State Intelligence (BAIS), and the Task Force for the Mitigation of COVID-19.
The Naval Attaché for Australia based in Jakarta, Captain Rod Griffiths, said the Indonesian Navy learned that the Surfrider Association required assistance to deliver a desalination unit to Nusa Lembongan due to obstacles to shipment resulting from the COVID-19 pandemic. Griffiths explained that the Australian Navy transported the desalination onboard the HMAS Canberra, passing Nusa Lembongan at an offshore distance of 50 nautical miles. A helicopter was deployed from the HMAS Anzac to airlift the machinery to Nusa Lembongan.
The sophisticated destination unit is powered by solar energy. It will provide much-need potable water to the Wisata Damai High School and the surrounding community by converting salt water from the nearby sea. The project's initiators hope the unit will also reduce the reliance on plastic containers for mineral water.