Bali's Ngurah Rai International Airport has launched the innovative PassGO-Digital Airport Hotel – a capsule hotel for air travelers seeking to sleep while transiting the Island's air gateway.
Speaking on Friday, 21 October 2022, The CEO of PT Angkasa Pura I, Faik Fahmi, told the State News Agency Antara that opening the innovative hotel represents one of the many steps to help restore the tourism sector that suffered during the 2.5 years of the COVID-19 pandemic.
PT Angkasa Pura I is managing the Capsule Hotel at Bali's airport via its subsidiary PT Angkasa Pura Hotel (APH), which is working with PT Krisna Graha Primatama (KGP) – an Indonesian capsule hotel operator. The hotel is on Level II of the International Arrival Terminal and offers 132 capsules or "pods" of superior and premier class. Each "pod" features a security access card, a high-quality mattress, bedding, a TV cable, a personalized ventilation system, and a storage area for a carry-on bag. Also available in each Pod is high-speed WiFi service, two USB charging ports, a lamp offering various lighting colors, a mirror, a reading light, and a headphone.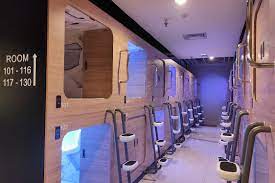 Outside the Pod, each occupant has a private locker. There are segregated bathroom facilities for men and women, providing hot and cold water.
The PassGo Hotel has a separate co-working space sufficient for 20 people that also provides a co-working space with free high-speed WiFi, a lobby area, and a CCTV security system.
The director of the PassGO-Digital Airport Hotel, Richard Josano, says: "PassGo Bali will become the right choice for travelers waiting for a flight. PassGo Bali has a transit rate for stay slots of 6 and 9 hours and an overnight rate."
Related Link