NusaBali.com reports that Indonesia's Minister of Youth and Sports, Dito Ariotedjo, has declared an end to the polemic surrounding Israel's participation in the ANOC World Beach Games (AWBG) to be held in Bali, 05-12 August 2022.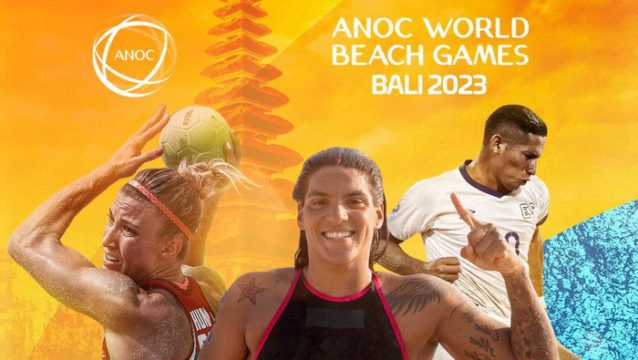 "No, yesterday I met with the Governor of Bali, Wayan Koster, and the National Olympic Committee or the chairman of the Indonesian Olympic Committee, Raja Sapta Oktohari. It's settled. The spirit is 1,000% that there is no polemic," said Dito Ariotedjo on Saturday, 22 April 2023.
There was also a meeting between Minister Dito with Governor Koster on Friday, 14 April 2023, at the Governor's Official residence (Gedung Jayasabha). That meeting reportedly agreed to fully support the Beach Games and allow the competition to proceed smoothly and successfully.
Will Israel Participate?
Dito stated that whether or not an Israeli Team will participate in the World Beach Games in Bali remains to be determined. Nonetheless, the organizers have put in place anticipatory steps should Israel's participation in the games eventuate. "If Israel's participation) happens, it's been anticipated. Tactical steps for that possibility are in place," said Dito.
A meeting is scheduled for 28 April until 01 May in Bali to be attended by the Chef de Missions for the NOC World Beach Games by delegations from 69 countries. The coordination meeting was confirmed in a letter from the Secretary-General of the Association of National Olympic Committee (ANOC), Gunilla Lindberg, sent on Monday, 17 April 2023, to the chairman of the Indonesian National Olympic Committee, Raja Sapta Oktohari.
A list of 69 countries participating in the ANOC World Beach Games does not list Israel with the final decision on the participation of two qualifying teams from Israel to be taken after the April planning meeting in Bali.
The National Olympic Committee (NOC) is a non-governmental organization affiliated with the International Olympic Committee (IOC), representing all branches of sport. The Chef de Missions Meeting includes contingents the NOC has designated to participate in the global sporting event.
AWBG Bali will be held from 05-12 August 2023, followed by a meeting of the ANOC General Assembly from 13-15 August 2023. AWBG represents one of the globe's largest multi-branch sporting events. Based on the number of participating countries, it will be the largest event ever held in Indonesia. Before the 11th-hour refusal by Indonesia to host the U-20 World Cup, the ANOC World Beach Games were meant to serve as a starting point for President Joko Widodo's ambition for Indonesia to host the 2036 Summer Olympics.
The Chef de Missions Meeting in late April will enable Indonesia to demonstrate its readiness to host the World Beach Games, including the supporting component elements of event venues, accommodation, and transportation. The AWBG 2023 welcomes 1,600 athletes from 130 countries. All countries participating in Bali have teams that have won the right to participate in qualifying rounds.  
Below is a list of the 69 countries and territories expected to attend the Chef de Mission Meeting in Bali for the 2nd ANOC World Beach Games 2023 from 28 April-1 May 2023. 
Conspicuous by its absence from the list is the State of Israel, which has two qualifying teams eligible to compete in Bali. The final decision on whether the Governor of Bali will allow Israeli athletes to compete in Bali will be announced on 01 May 2023.
1. Algeria
2. Argentina
3. Australia
4. Azerbaijan
5. Bahamas
6. Barbados
7. Benin
8. Bosnia and Herzegovina
9. Brazil
10. Canada
11. Chili
12. China
13. Colombia
14. Costa Rica
15. Croatia
16. Cuba
17. Czech Republic
18. Ecuador
19. Egypt
20. El Salvador
21. France
22 Georgia
23. Germany
24. Great Britain
25. Greece
26. Hong Kong (SAR)
27. Hungary
28. Indonesia
29. Iran
30. Ireland
31. Italy
32. Japan
33. Kazakhstan
34. South Korea
35. Kuwait
36. Latvia
37. Lithuania
38. Madagascar
39. Mauritius
40. Mongolia
41. Morocco
42. New Zealand
43. North Macedonia
44. Oman
45. Palestine
46. Panama
47. Paraguay
48. Peru
49. The Philippines
50 Poland
51. Portugal
52. Qatar
53. Romania
54 U.S. Samoa
55. Saudi Arabia
56. Senegal
57. Singapura
58. Slovakia
59. Slovenia
60. Spain
61. Taiwan
62. Togo
63. Trinidad and Tobago
64. Tunisia
65. Turkey
66. United States of America
67. Vanuatu
68. U.S. Virgin Islands
69. Zimbabwe
Related Links
Koster Firm in Rejecting Israeli Athletes
U-20 Cup, Cry for Indonesia, Not Argentina
Sports Minister to Safeguard Beach Games
U-20 World Cup Fiasco: Insight & Analysis
U-20: More than US$250 Mn Down the Drain?
Will World Beach Games in Bali Go Ahead?
2023 World Beach Games Website
Stay Informed on Bali Tourism-Related News: Subscribe to Bali Update