Police have arrested Hadfana Firdaus (34) in East Java for desecrating Hindu religious offerings intended to seek cosmic balance in the wake of the violent eruption of the Mount Semeru Volcano on 04 December 2021.
Kompas.com, CNN, and numerous other national media confirmed Firdaus' arrest.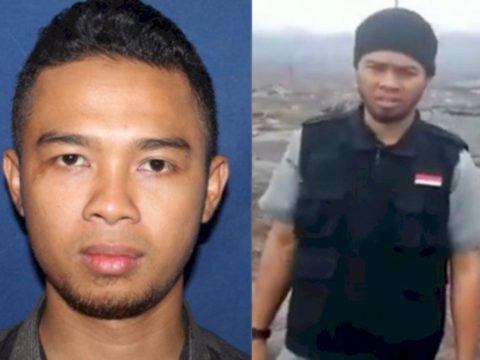 The head of the criminal division of the Lumajang Police Resort, AKP Fajar Bangkit Utomo, confirmed the arrest on Friday, 14 January 2022, revealing he was being detained at provincial police headquarters for East Java. Utomo said the man would be transported to Lumajang for interrogation.
Hadfana Firdaus is seen widely on social media throwing and kicking religious offerings into the volcano's crater and desecrating other offerings placed on a Hindu altar while repeatedly saying "Allahu Akbar" – an Arabic phrase for "God is most great." The man was also recorded on the video proclaiming: "This is what precipitates God's wrath, it is rarely realized, that this is what invites God's wrath and brings down his punishment."
The offerings desecrated by Hadfana Firdaus formed part of local traditions by the people of Sumbersari in East Java, who regularly recite prayers of deliverance from natural disasters. The video evoking a strong reaction from Hindu religious circles and other Indonesian circles who embrace the State Philosophy of Pancasila was initially uploaded to the Twitter Account @setiawan3833, who was unreserved in criticizing the desecration and Firdaus.
Firdaus reportedly arranged for his act of religious desecration to be filmed and arranged the film's uploading to various outlets.
Hadfana Firdaus is now under arrest and facing severe punishment together with public backlash and retaliation. Pending the results of police questioning and a review of the incriminating videotape, Firdaus may be charged under the Indonesian Criminal Code (KUHP 156) for fostering hatred and perpetrating insult against a specific segment of Indonesian society, carrying a possible maximum penalty of 4 years imprisonment. Additionally, Hadfana may be charged under the Indonesian Electronic Media Law (Law Number 19 of 2016), which could carry the additional penalty of 10 years in prison and a maximum fine of Rp. 1 billion.
With the penal and financial penalties of his ill-considered actions now becoming increasingly clear, Hadfana Firdaus has spoken from police custody, seeking forgiveness from the large cross-section of Indonesian society that he has offended. In a filmed apology from the East Java Police Command, made while wearing a prisoner's uniform, Fridaus said: "To the entire public of Indonesia that I love. My actions shown in the video have offended my friends' feelings. For this, I deeply apologize. Thank you."
Despite this apology, and as reported by Bali.genPI .co, I Gusti Ngurah Arya Wedakarma (AWK) wasted no time in calling for the imprisonment of the man seen disrespecting Hindu religious traditions. Wedakarma, who sits on the Indonesian Representative Council (DPD) and is President of The Hindu Center of Indonesia, angrily depicted the acts committed by Hadfana as demonstrating religious intolerance. The man, proclaiming himself a devout Muslim and acting as a messenger of Allah, threw and kicked offerings placed by Hindu believers near the crater of Mount Semeru on 07 January 2022.
See the Video Uploaded to Twitter
Hadfana Firdaus was born in Wonosobo, Central Java, in 1988 but carried an identity card listing the community of Tirtanadi, Labuhan Haji, East Lombok as his home.
Following the circulation of the video, police launched a nationwide search for the man that included police sweeping Lombok and Bantul, Yogyakarta, before finally leading to his arrest.
Police are believed to be preparing the case for formal charges and eventual trial.
Related Article