The Provincial Bali Police will deploy 1,414 personnel across 19 security points on the Island to maintain the peace during a year-end operation named "Operasi Lilin Agung 2020" (Great Candle Operation).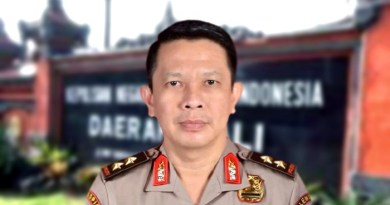 As reported by Beritabali.com, the Chief of the Bali Police, Inspector General Putu Jayan Danu Putra, told a press conference on Friday, 18 December 2020, that the special operation anticipates the coming holidays will commence on 21 December 2020.
Speaking to the press, General Danu Putra said: "There is a circular memorandum issued by the Governor addressing health protocols and explains various rules and regulations. These will be followed at 14 designated locations comprised of tourism destinations, accommodation providers, and other places."
Operasi Lilin Agung 2020 is in addition to the ongoing "Yustiti Operation," covering 2,000 points to educate the public on the need to obey health protocols.
The Bali police General said that peace and good order during the Christmas and New Years' period would involve 1,414 enforcement officers working from more than 20 security command posts.
General Danu Putra reminded the public of cautions and prohibition against parties, large gatherings, and fireworks connected with New Years' celebrations in Bali.
On an ominous note, General Jayan said preventing terrorist acts remains a shared concern of all enforcement agencies. For this reason, the public in Bali can not let down their guard. Adding: "The Bali Police, the National Police Headquarters, regional law enforcement agencies, and the National Counter-Terrorism Agency (BNPT) will be on alert and protect Bali from any terrorist acts."
In short, Bali's newly appointed Chief of Police said any violation of the law would be prosecuted. His resolve also includes a hard line by the police against gangsterism, thuggery, narcotics abuse, and cock-fighting.