Beritabali.com reports that the Denpasar Municipal Administration now holds an official land certificate for the creation of a Port at Matahari Terbit Beach in Sanur.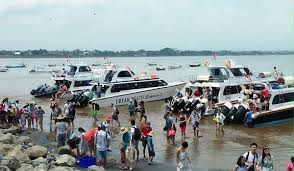 The Land Certificate clearing the way for the proposed Port was handed over to the Deputy-Mayor of Denpasar, IGN Jaya Negara, by the Head of the National Land Agency for Denpasar (BPN), Sudarman Harjasaputra on Friday, 29 May 2020, at the BPN office in the capital.
The handover of the certificate was the latest step in plans to create a Port on Sanur Beach agreed in 2011 to create a port for the small vessels traveling between Bali and Nusa Penida. The current Port is an informal and disorganized affair located behind the Inna Grand Hotel Bali Beach.
In recent times, plans to develop the Port have been tagged for special attention by the Director-General of Sea Transportation as part of an overall recovery plan for Bali in the Post-COVID-19 era. Because of this, the process for the acquisition of land for the Municipality of Denpasar by the Director-General of Sea Transporation to construct the Port has recently been accelerated.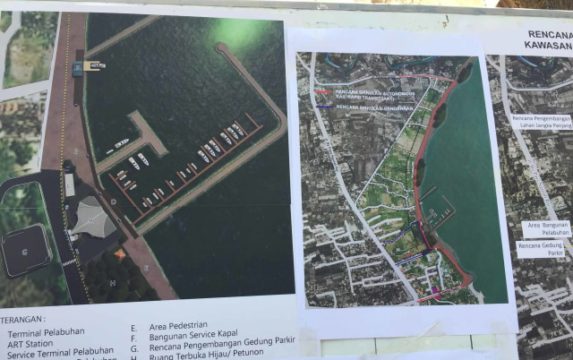 The land has been ceded to the Department of Sea Transportation to permit the construction of the Port to proceed.
Audi Brawijaya, the Head of the Municipality's Finance and Asset Division (BPKAD), said: "The land for the construction of the Port must first be donated to the Directorate General of Sea Transportation of the Ministry of Transportation of the Republic of Indonesia and later, after completion of the Port construction, the land will be given back again, including buildings, to the Denpasar City Government."
Meanwhile, Deputy-Mayor of Denpasar, IGN. Jaya Negara expressed his thanks to the Denpasar Land Agency (BPN-Denpasar) for their assistance in expediting the acquisition of land certificates covering 5,180 square meters and 2,280 square meters needed for the construction of the Port to move ahead.