Indonesian President Joko Widodo has implemented Emergency Limitations on Public Movement (PPKM-Darurat), effective Thursday, -1 July 2021.
The measures announced by the President will be in effect from 03 until 20 July 2021 on the islands of Java and Bali.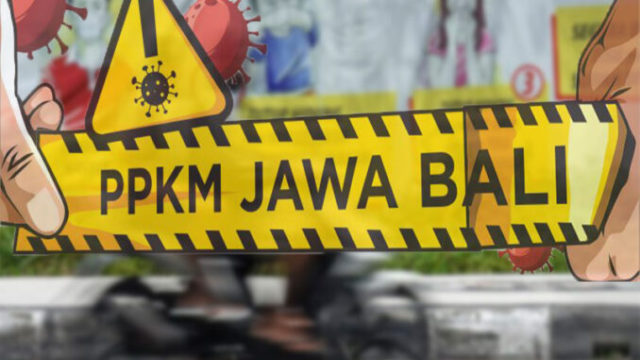 Quoted by the State News Agency Antara, the President spoke at a press conference from the National Palace saying: "After receiving a great deal of input from cabinet ministers, health experts, and regional heads of government, I have decided to impose 'PPKM-Darurat' from 03 July until 20 July, specifically for the islands of Java and Bali."
President Widodo explained that PPKM-Darurat would severely restrict public activities to a much greater degree than has been done to handle the coronavirus pandemic to date.
"As regards the details on how the PPKM-Darurat will be implemented, I have asked the Coordinating Minister for Maritime Affairs and Investment to explain these measures on public activities," said the President.
The President asked the public to accept and show discipline in following the rules and regulations connected with the emergency measures being introduced by the government.
"The government will deploy every resource at its disposal, all government agencies, the Armed Forces (TNI), Police, private sectors elements, doctors and medical workers to work side-by-side in the best possible way to prevent the spread of COVID-19," said President Widodo.
Continuing, Widodo called on the public to remain calm and follow all the rules and guidelines announced by the government.
A short time later, The Coordinating Minister for Maritime Affairs and Investment, Luhut B. Pandjaitan, warned that all regional heads who fail to obey PPKM-Darurat regulations would face sanctions. In a press conference held via Youtube.com from the State Secretariat Channel, Luhut clarified that Governors, Regents, and Mayors who fail to follow limitations imposed on the public in their jurisdictions would suffer administrative sanctions.
Sanctions can include written reprimands that can result in temporary suspensions from office under existing instructions and regulations from the Interior Minister if issued for a second time.
Luhut indicated that among the government's list of prohibited activities are requirements to work from home and the closure of public malls.
The areas affected by PPKM-Darurat are localities in Java and Bali comprised of 48 regencies/municipalities with a "level 4" status and 74 regencies/municipalities with a "level 3" rating.
Currently, all regencies and the metropolitan area of Denpasar in Bali are rated at "level 3."
Also among the PPKM-Darurat stipulations are requirements for all non-essential sectors of the economy to work from home with educational activities limited to online methods.
Those working in non-essential sectors of the economy are permitted to staff their offices at a 50% level and, only then, with the strict implementation of health protocols. Critical sectors are allowed to maintain 100% staff, but only with the strict application of health protocols.
Essential Sector of the Economy
Meanwhile, essential sectors of the economy are exempted from "work from home" requirements such as finance, banking, stock exchange, payment systems, information technology and communications, import-oriented companies, and hotels that are not handling COVID-19 quarantines.
Critical Sector of the Economy
Critical sectors of the economy including energy, health, security, logistics, transportation, food and beverage industries, petrochemicals, cement, vital national objects, disaster management, national strategic projects, construction, basic utilities (e.g., electricity and water), and industries that fulfill the basic needs of the public are also exempted from work at home requirement.
The government will allow supermarkets, traditional markets, grocery stores, and self-service markets to remain open until 8:00 pm serving the public at 50% of their "normal" capacity. Drug stores are allowed to stay open on a 24-hour basis.
Reflecting the strict "no-nonsense" approach of the Indonesian government, shopping centers, malls, and commercial shops located within the designated areas for PPKM-Darurat must remain closed during the proscribed period. Meanwhile, restaurants, cafes, and informal food vendors (kaki lima) operating independently or inside shopping centers within the "lockdown zones" can only provide delivered food until the declared closing time.
All places of worship within the PPKM-Darurat zone are ordered to close temporarily, together with public places for art performances, sports, and other public activities.
A maximum of 30 participants can attend wedding receptions in the designated zones. Invitees cannot be served catered food. Again, strict health protocols must be observed.
Public transportation is only allowed to carry a maximum of 70% of its rated capacity, with strict health protocols observed during transport.
Those undertaking long-haul trips must present proof of vaccination.
Domestic air and long-haul land transportation passengers must show proof of a negative PCR Swab or Rapid Antigen Test.
Related Article