The Agency for Meteorology, Climate, and Geophysics (BMKG), in cooperation with Bali's Ngurah Rai International Airport, is reviewing warning and response scenarios should a significant earthquake and tsunami engulf the Island's sole air gateway.
The State News Agency Antara and Bali Post, relaying a joint press statement issued by the chief of BMKG, Dwikorita Karnawati, and the general manager of Bali's airport, confirmed that BMKG had been actively reviewing the airport's readiness in the event of a combined earthquake and tsunami disaster.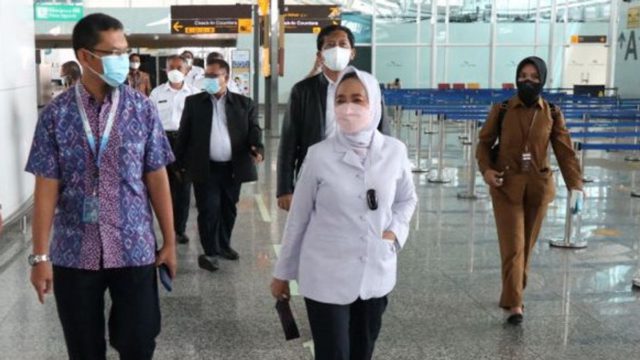 Dwikorita told the press, "The distance between the edge of the seashore and the runway is zero meters and has a high potential of a tsunami if a large earthquake ever strikes Bali."
Dwikorita outlined three precautionary steps undertaken by BMKG to anticipate such a disaster. First, her agency creates accurate disaster models to estimate the danger and threat of a tsunami resulting from a megathrust in any area south of Bali. Second, BMKG has installed an early warning tsunami system (New Generation Warning Receiver System – WRS) integrated into the Bali Airport Command Center. The WRS system provides at least a 2-5 minute warning of any approaching tsunami. Third, BMKG is taking steps to educate the stakeholders and officials working at the airport on mitigating emergency procedures in the event of a tsunami. Exercises, emergency simulations, and safety drills are also organized. 
Diwkorita commented further: "Mitigating steps by the provincial administration and the regional/municipal governments are in place to minimize materials losses and the loss of human life. Bear in mind that the areas surrounding the airport are business and residential areas." The BMKG Chief said these facts must be borne in mind by the government and all parties when they are building infrastructure because the entire Indonesian region sits on the "ring of fire" and are therefore at substantial risk to earthquakes and tsunamis.
During the inspection visit to Bali's Ngurah Rai Airport, Dwikorita confirmed that all the equipment used for monitoring the weather and safety equipment were in good repair.
The BMKG leader said the systems and equipment in operation at Bali's Ngurah Rai International Airport provide detailed aviation-weather forecasts, measure wind direction and velocity, rainfall measurements, air pressure, visibility, and cloud base height. Dwikorita also inspected the Automated Weather Observing System (AWOS) located at the end of the runway. The AWOS system provides information on temperature and humidity, barometric pressure, precipitation, wind direction and speed, and solar radiation detection.
Looking ahead, the BMKG chief closed by commenting: "The G20 Summit will be in Bali in October 2022. Accordingly, BMKG has taken many preparatory steps because the airport during the international summit will be very busy. All equipment is being checked to ensure they are in prime condition and capable of providing fast and accurate data."