Many security guards (satpam) working at Bali's Ngurah Rai International Airport face imminent unemployment because they have permanent tattoos or piercings on some parts of their bodies.
A group of around 30 tattooed and pierced men likely to be affected by the policy gathered at the "Rumah Aspirasi" (The House of Aspirations) in Denpasar on Sunday, 21 November 2021. The "Rumah Aspirasi" in Bali, like its counterparts in locations nationwide, is a place where members of the public can freely share their concerns with lawmakers and public officials.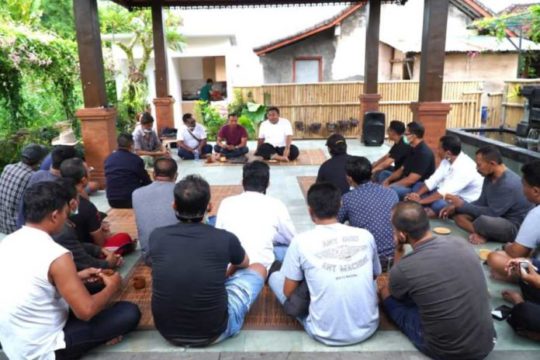 According to Wayan Suatrawan and Agus Amik Santosa, who are coordinating the protests of members of the Airport's Aviation Security (AVSEC) team, explained to Balipost.com that the men destined to become unemployed are contract security guards who have worked at Bali's airport for between 13 and 20 years without a problem. Most of the men facing unemployment began working as security guards when they had already had tattoos and piercings and now universally have licenses certifying they have completed training to work as airport security guards.
Suartawan and Santosa said they represent 136 AVSEC Security Guards among a rumored 300 men facing non-renewal of contract by Angkasa Pura Supports (APS), a subsidiary of the State-owned airport management company – PT Angkasa Pura I (PT AP1).
The two representatives told the press that the workers were unhappy and protesting a circular memorandum from PT AP1 stipulating that security guards must be free of tattoos and body piercings.
Nyoman Parta, who sits on Commission VI of the National House of Representative (DPR-RI), who met with the Security Guard representatives at the Rumah Aspirasi, said that he regretted plans to end the working contracts that he depicted as a measure without relevancy or justification.
Parted pointed out that the men were already tattooed and had body piercings at the time of their initial engagement and that, in any case, the tattoos are not visible when in uniform. Secondly, domestic tourist numbers are increasing to Bali, requiring a full complement of security work to keep the airport safe. And, finally, it is discriminative and unusual that only contract workers are affected by the new ruling when, in reality, there are many permanent (non-contract) employees of PT AP1 who are tattooed.
Tattooing is very popular among many Hindu males in Bali, less so in Java and other regions of Indonesia where the majority Islamic populating often frowns on tattoos.
"Come on, just because there is a small tattoo of a bird on someone's arm, they will not have their contract renewed," complained a bewildered Parta as quoted by NusaBali.com.
Underlining the discriminatory aspect of the planned termination, Parta said that most of those slated to be terminated are local Balinese workers who are married with dependent children. Adding: "I suspect this is a tactic to avoid paying BPJS premiums (Social Security) in order to recruit new, younger workers. I will call on APS, PT AP1, and the Ministry of State-Owned Enterprises (BUMN) to review this stipulation (on tattoos and piercings) because it is unjust, tending towards discrimination, and it is inhumane."
Taufan Yudhistira, the Manager of Stakeholders Relations for PT AP 1 refused to comment when contacted by NusaBali.com.