The Mulia Bali Management Team is enthusiastically embracing the "new normal" while adopting enhanced safety and sanitation protocols in every aspect of the Mulia Bali operations.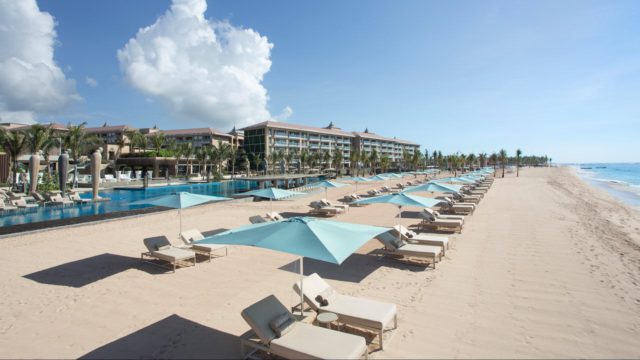 By adhering to World Health Organisation (WHO) guidelines, the Resort's management wants to provide its visitors with the peace of mind needed for the world to be ready to travel again.
Business as Usual with Extraordinary Attention to Health & Well-Being
The Mulia Bali has remained in operation throughout the current Pandemic and the resulting uncertainty surrounding travel. Cognizant that Health-Safety-Security (well-being) are the three key factors for travel in "the new normal," The Mulia is placing a particular emphasis on a new set of Mulia Safety and Sanitation Protocols.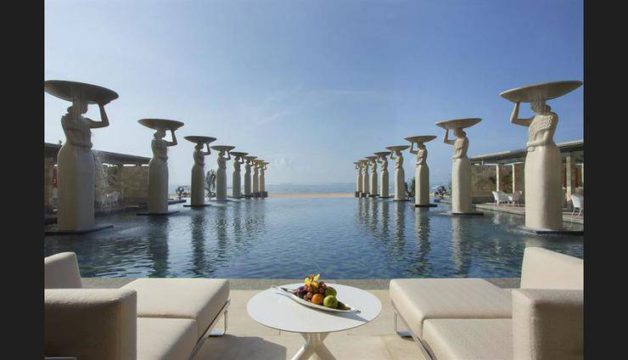 Starting from the onset of the Pandemic in late January, Mulia employees have been continuously updated with the most current information related to COVID -19 and intensively educated on the importance of good hygiene and cleanliness. Washing of hands and usage of masks and gloves are continuously brought to mind through multiple channels, including daily briefings as well as prominent signage in all employee areas.
Other measures include a higher frequency of cleaning and sanitizing of all common public areas in the Resort. High-touch-point-areas, including guest rooms, elevators, door handles, railings, and restaurants, are often thoroughly cleaned. The use of international standard disinfectants in kitchen areas and the use of electrostatic machines are employed when high-intensity disinfection is required.
A Warm Welcome Back to Paradise
Mulia Bali remains committed to providing the very best experience to all its guests as it has in the past with world-renowned warm Balinese hospitality at its core. In the "new normal," guests are relieved to learn that Balinese tradition involves touchless greetings. What's more, the Resort is designed following Balinese architecture principles providing generous open-space areas affording guests full enjoyment of the tropical ambiance. This, of course, limits the need to touch many surfaces and doors.
Stay with Comfort
Upon arriving at the Resort, all guest luggage is sanitized before entering the resort area. Guests' body temperatures are scanned with a thermal scanner upon arrival and intermittently during their stay.
Mulia's staff are required to wear masks at all times, with strict attention paid to personal hygiene.
Safe physical distancing applies in all public areas, including protective screens installed at information/service desks. Limitations on vehicle capacity also apply on hotel-provided transfer services.
At check-in, sanitized stationeries are provided for guests. Hand sanitizers are prominently in place throughout the Resort.
Additional room amenities, such as masks and sanitizers, are available, with every effort made to optimize "low-touch" approaches in every possible aspect of a guest's stay.
A Refreshing Experience with Wellness in Mind
Mulia also extends augmented programs and enhanced menus that emphasize wellness and immune-boosting ingredients to promote a healthy body, mind, and spirit.
Mulia's state-of-the-art gym practices physical distancing in all areas as well as daily deep cleans on all training and exercise equipment using medical-grade disinfectant containing 70% alcohol after each usage.
Outdoor fitness programs are encouraged for a "fresh air" exercise experience.
All pools and tubs are routinely tested to ensure that they meet the highest safety standards and that chlorine levels are maintained in dilutions sufficient to neutralize any virus.
The Resort also enforces "best" hygiene practices, such as requiring showers before entering the pool or using spa facilities.
The use of hand sanitizer is "a must" before using spa and gym equipment. Guest manifesting symptoms of any illness are forbidden from using shared facilities.
Dine with Ease
Dine with ease and peace of mind at The Mulia with all restaurants adhering to strict "new normal" guidelines that include:
Sanitizing of restaurant areas, including tables and chairs after each meal period.
Strict supervision on all staff hygiene and sanitation policies.
Monitoring of employee body temperature and general health assessment before entering the work areas.
Provision of necessary amenities for guests including, but not limited to, hand sanitizer and face masks.
Implementation of safe physical-distancing on outlets' service queues with visible spacing markings and signs.
Enlarged spatial distance between all tables and seating at a minimum of 6 feet apart with maximum seating of 4 people per table.
Following recommended safe food practices such as serving well-cooked meats and the temporary removal of uncooked dishes in all restaurant menus.
Peace of Mind
Mulia has partnered with internationally qualified suppliers and is working closely with trusted hospital and medical resources to minimize the threat of COVID-19 contagion.
Shared responsibilities of vigilance between guests and resort staff form the first line of defense in support of maintaining good health. There is an interval "breathing experience" between the check-out and the next check-in for every guest room to facilitate thorough cleaning and sanitizing.
Internal policies dictate that no member of the Mulia team is allowed to travel to areas where high-infection rates for COVID-19 are reported. If, for any reason, any Mulia employee travels to one of those areas for personal purposes, a mandatory home-quarantine of two weeks must pass before the worker can return to his or her workplace.
If an employee manifests any flu-like symptoms, they will be sent for immediate medical attention and compelled to remain home until they become symptom-free. Similarly, guests who are ill are encouraged to seek medical attention and to avoid public exposure. Protocols are in place to help guests get medical care, and high-sanitizing procedures invoked in hotel rooms where guests who become ill were staying.
As the "New Normal" continues, Mulia Bali remains committed to continually adapt and implement the latest "best practice" and technological innovations that will ensure the safest environment for both staff and guests.
The Mulia, Mulia Resort & Villas
Jl. Raya Nusa Dua Selatan,
KawasanSawangan, Nusa Dua 80363, Bali, Indonesia
Telephone: +62-(0)361-3017777