Balidiscovery.com has learned of the passing of a true friend and pioneering giant in Indonesian tourism – Dra. Cri Murthi Adi, aged 88.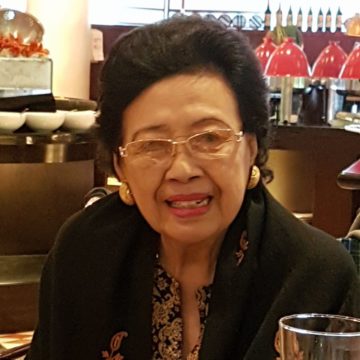 Born in Lumajang, East Java, in 1932, she became a civil servant in 1962 after graduating with a Bachelor's Degree in English literature from Gajah Mada University and a MA in Linguistics from Indiana University.
She was fluent in her native Indonesian, Javanese, English, and French.
Cri Murthi held posts in the Department of Education and Culture, and tourism directorates and ministries, including ten years as the Director of Marketing from 1978-1988 at the Directorate General of Tourism.
Fueled by her broad understanding of the Indonesian culture, familiarity with the workings of the national bureaucracy, language skills, and deep love of country – "Ibu Cri" filled many key international posts in her long and distinguished career. These postings included: Public Relations Officer at the Indonesian Pavilion – New York World's Fair (1964); Head of Foreign Relations Bureau, National Tourism Institute (1964-1967); Deputy for Protocol and Supervisor of Information Officers at Osaka Expo in Japan (1970-1971); Executive Secretary at the ASEAN Tour and Travel Association -ASEANTA (1971-1973); Executive Secretary of the PATA Indonesia Chapter (1977-1986); Member of the PATA Board of Directors (1981-1983); and Second Vice-Chairman of the PATA Indonesia Chapter.
Dra Cri Murth Adi played a key role in making Indonesia known to the world by coordinating and leading global tourism sales missions to key source markets that included: Singapore, Malaysia, Philippines, Thailand, Australia, Japan, Hong Kong, Switzerland, The Netherlands, Germany, Los Angeles, San Francisco, South Korea, and Bangkok.
During her lifetime, Ibu Cri received numerous awards for her valuable contributions to tourism. These recognitions include an award from the organizers of the Osaka Expo '70; an award from the Ministry of Research and Technology for helping to coordinate the Indonesian Pavilion in Tsukuba Expo 1985; a Satya Lencana Karya Satya Award from the President of Indonesia in 1990; and the Adi Karya Pariwisata Award from the Minister of Tourism, Post and Telecommunication.
Following her retirement from Government service in 1991, she became a consultant in the field of marketing and related services for the Bali Tourism Development Corporation (BTDC) – a post she held until 1998.
Dra Cri Murthi Adi died on the morning of Saturday, 20 June 2020, and was interred in Bogor, West Java.