On Monday, 27 December 2021, at 3:00 pm, Bali lost another iconic tourism figure with the death of the retired Indonesian hotelier, Frits Henskes, aged 74.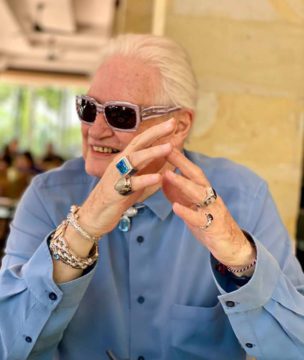 Frits Henskes was born on 10 July 1947 to an Indonesian mother and Dutch father in Batavia – the name before 1950 of the current-day capital of Indonesia Jakarta. He later attended and graduated from the Hogere Handels School in Amsterdam.
Henskes was known among his many friends and admirers in Bali for his role as manager of many years of the Ayung Resort in Payangan, North Ubud. He served as a hotel and resort consultant for Spectrum Bali (PT Cipta Harapan) and as a Vice-President for Development for PT Wisma Kartika.
Dedicated to hospitality and culinary excellence, a fact reflected in the outstanding cuisine he pioneered at The Ayung Resort, Frits also served for a period at the "Balii" for the Bali Chapter of the La Chaine des Rotisseurs.
He began working in hotels from the early age of 14 as a dishwasher in Jakarta. He rose rapidly through the ranks to management-level positions while still a young man. Working with major hotel brands, Henske explored the world while undertaking assignments at exotic locales that included the Cayman Islands, Miami, Bermuda, Latin America, Sri Lanka, and the Middle East.
In terms of careers, however, Frits Henskes' "marriage made in heaven" was at the helm of one of Bali's most eclectically exotic hotels – The Ayung Resort located in the Village of Begawan, in Payangan on the outskirts of Ubud. It was there that Frits reigned supreme as "The Grand Host" – sharing a deep love for the unique property and its jungle location with both its owners and nearly 200 staff.
Frits Henkes is survived by a daughter "JJ" and a son, Willem.
On Wednesday, 29 December 2021, a visitation wake was held at 7:30 pm at Dharma Yadna, located behind the Dharma Yadnya Hospital, on Jalan WR Supratman No. 256, Tohpati, East Denpasar.
A service was conducted at the same location on Thursday, 30 December 2021, starting at 10 am.