Indonesia and Bali have lost a highly-cherished native Son and leading tourism figure with the death of Drs. I Gede Ardika who served as the Minister of Culture and Tourism in two presidential cabinets from 200o-2004 under President Abdurrahman Wahid and President Megawati Soekarnoputri.
Gede Ardika died after a long illness in Bandung, West Java, at the St. Boromeus Hospital on Saturday, 20 February 2021, at 7:46 am.
Ardika's death came just five days after celebrating his 76th birthday.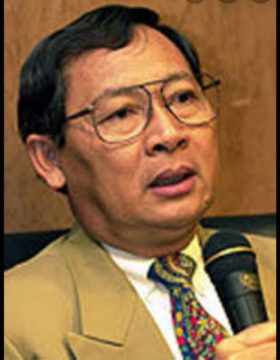 Ardika was born in Singaraja, North Bali, on 15 February 1945. After graduating from High School in Singaraja, he pursued tertiary education in Bandung before winning a scholarship and attending a hotelier program at the Insititute Gilon Swiss from 1969-1972. After completing an educational program in administration at STIA LAN Bandung in 1977, Ardika embarked on a career as a civil servant with the Department of Culture and Tourism.
After filling various roles in the Department of Culture and Tourism, Ardika returned to Bali to become Bali's Head of Tourism, Post, and Telecommunications in the late 1980s before returning to Jakarta in 1993 to become the head of the Tourism Education Department and, later in 1996, the Secretary of the Director-General of Tourism. In 1998, he was named the Director-General of Tourism, Art, and Culture before being elevated to Minister in 2001.
Minister Ardika stood out among other ministerial appointees in that he spent his professional life working within the tourism department and ministry, which he eventually would lead.
Minister Gede Ardika will long be remembered for this thoughtful leadership during the 2002 Bali Bombing. When he arrived in Bali on 13 October 2002, Ardika immediately met the press, law enforcement, bereaved family members, and shocked members of Bali's societies following a terrorist attack that cost 202 lives.
The late Minister will be remembered for his relentless commitment to sustainable tourism, a focus on community-based tourism, and efforts to preserve and protect Indonesian culture.
A charming, warm, and personable man, Pak Ardika was famously inclined to greet old friends and colleagues with a sincere embrace.
May our beloved friend and former Minister be welcomed to a fitting place, united with the Almighty – Dumogi Amor ing Achintya