The affable and popular restaurant manager and sommelier at Ubud's Mozaic Restaurant Gastronomique – Jean Francois Moch died in a motorcycle mishap on New Years Day, Friday, 01 January 2021.
Born on 18 June 1968 in Lyon, France, Jean or "Jeff" Moch attended the Lycee Technique de Morez before embarking on a career that included assignments in professional kitchens with 1 to 3 Michelin Stars.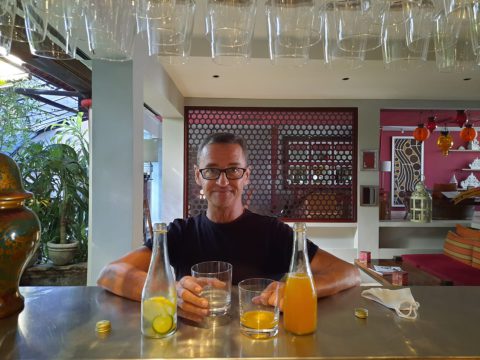 Later. he brought his engaging and gregarious personality to the "front of house," working in guest contact roles at such establishments as the 3-Star Michelin Le Crocodile in Strassbourg, France.
He was also involved in four restaurants' preopening teams during his career, often focusing on bar and wine cellar operations.
Eager to travel and expand his horizons, Jean Moch spent three years in New Caledonia as a food and beverage manager and running his own small lamp manufacturing business.
Later, the talented Frenchman brought his passion for food and wine to Bali. He initially worked at the Warisan Kafe as restaurant manager before shifting to the Kupu-Kupu Group, opening several Bali restaurant outlets.
In 2016, he joined Mozaic Restaurant Gastronomique in Ubud as a restaurant manager and wine manager.
Jean Francois Moch's cremation took place on Saturday, 09 January 2021, in Mumbul, South Bali.