A Bali team of anti-narcotics officers (BNNP Bali) have arrested a Russian national identified only with the initials AG (32) on Jalan Pondok Mekar in Jimbaran, South Kuta, Bali, on Wednesday, 19 May 2021.
At the time of his arrest, AG was in the process of receiving a parcel weighing 194.42 grams containing the powerful narcotic Dimethyltryptamine (Dmt).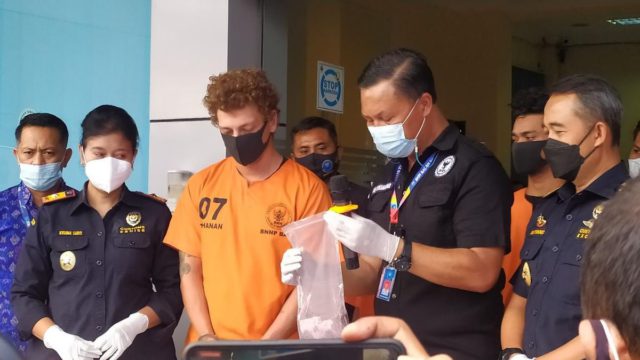 Dmt is listed in Indonesia as a "Category I" narcotic as a very powerful hallucinogenic with potentially fatal consequences.
In announcing the arrest, the head of the BNNP in Bali, General Gde Sugianyar Dwi Putra, accompanied by Customs Officials, said the arrest proceeded after Customs officials working at Bali's Ngurah Rai Airport and the Denpasar Post Office became suspicious of a package sent to Bali originating from an address in Ukraine. An X-ray examination of the package revealed a piece of wood, and a substance later proved to be Dmt.
Officers from the BNNP and Customs Department arranged for the package to be forwarded to AG's residence in Bali. Upon receiving the contraband, AG was arrested.
Sugianyar described Dmt as a psychedelic substance able to produce hallucinations with effects not unlike those produced by Lysergic Acid (LSD). Dmt or psilocybin – a substance derived from "magic mushrooms" – are considered among the world's most potent hallucinogenic drugs.
Once ingested, the drug begins to take effect in 5 minutes and provides a trip lasting over 40 minutes.
Dmt is known as a "New Psychoactive Substance (NPS)" for those seeking a narcotics-induced "trip." Users have reported an experience not unlike a "peaceful death experience."