Good Friday religious observances at Denpasar's Roman Catholic Cathedral were held on a simplified, smaller scale due to continuing COVID-19 precautions.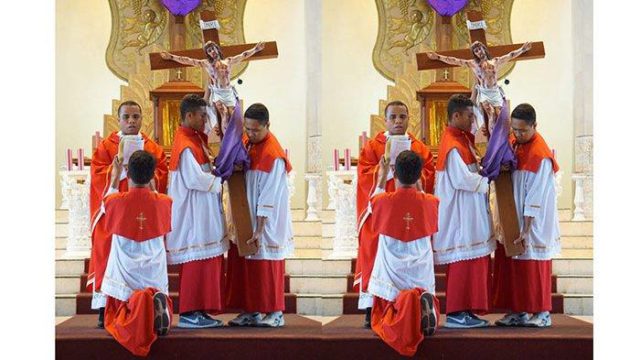 As reported by Detik.com, the traditional ceremony of kissing the feet of the statue of Jesus Christ, which forms a traditional part of Good Friday Services, was altered. This year saw only ordained clergy members kiss the icon's feet, representing the worshippers who in normal times would have also stepped forward to kiss the Lord's crucified feet.
On this occasion, the Faithful approached the crucifix in a meditative bow instead of bending low to kiss the feet of Christ one by one.
Meanwhile, thousands of others following the service online through live streaming could join the Good Friday Worship Services.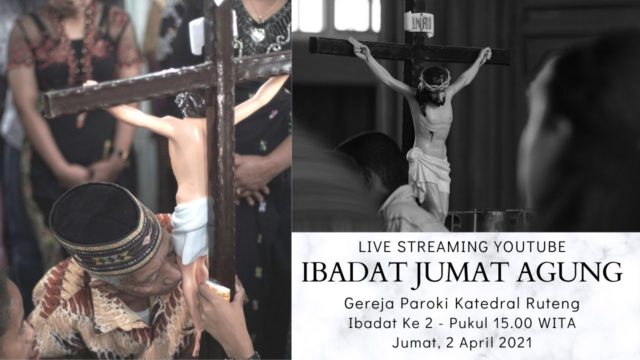 This simplification saw the Good Friday service last only 1.5 hours, where a normal Good Friday Mass can easily exceed two hours.
In keeping with physical distancing directives, only 700 pre-registered worshippers were allowed to attend the actual service. The normal capacity of the Cathederal in Denpasar is 2,500.
Because of the greater risks from infection, the service organizers urged worshippers over the age of 65, pregnant women, and small children to safely participate in the Good Friday Worship via live streaming.
Strong security measures were in place at the Cathedral following a Suicide Bomb Attack on the Makassar Cathedral in South Sulawesi the previous Sunday.