Sandiaga Uno, Indonesian Minister of Tourism and the Creative Economy, has held a historic face-to-face meeting with Daniel Thomas Tehan, Australia's Minister for Trade, Tourism, and Investment, at the Commonwealth Offices, in Melbourne on Wednesday 06 April 2022.
Touching on the historic nature of the meeting, as quoted by the State News Agency Antara, Sandiaga said: "In my first trip abroad as Minister of Tourism and the Creative economy, I came immediately to Australia because of the large number of Australian tourists visiting Indonesia. Bali has become a second home for them." The Indonesian Tourism Minister explained that the number of Australians visiting Indonesia in 2019 was around 1.4 million. However, with the sudden onset of the global pandemic, that number reduced to only 220 people for the entire month of February 2021.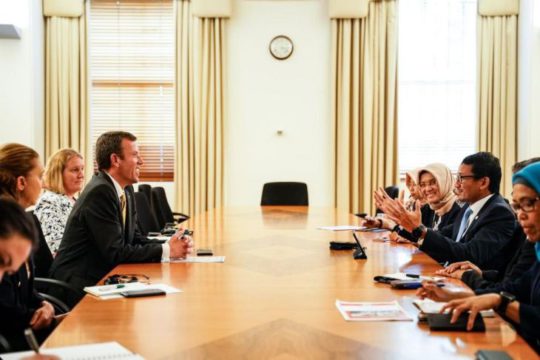 Commenting on his Australian visit, Sandiaga said he hoped the visit would strengthen and intensify cooperation between Indonesia and Australia in tourism and creative economic activities, including promoting Indonesian tourist destinations.
"Indonesia has more than Bali as a tourist destination for Australians. Indonesia has many beautiful tourist destinations with a natural and cultural richness that reveal droves of local wisdom," said Sandiaga. The Minister said Australia and Indonesia have shared roles as hosts for Formula 1 (F1), and similar race events would allow the two countries to share "best practices" in conducting such events. Adding: "Melbourne has many sports events, such as F1 and the Australian Open. Indonesia can follow Australia's example in various tourism developments, especially when an F1 race is held in Bintan, Riau Islands."
Australia's Minister for Trade, Tourism, and Investment, Thomas Tehan, said he was honored that his country had become the first overseas nation to be visited by Minister Sandiaga Uno. He said he hoped that cooperation and good relations between Australia and Indonesia could be maintained. "Australians are very interested in visiting Indonesia, especially Bali. We hope that this cooperation will proceed smoothly, given that Indonesia is our neighbor."
During the Indonesian Minister's four-day visit to Australia 06-10 April 2022, Sandiaga reportedly underlined the extensive and intensive link shared by Indonesia and Australia reflected in the keen desire of Australians to visit Bali and the rest of Indonesia.
"My first working visit abroad was intentionally targeted at Australia. This was because, since the reopening of Bali on 08 March, the Australians took the lead in the number of foreign visitors to Indonesia," said Sandiaga during his online Weekly Press Briefing held on Monday, 11 April 2022.
Because of the enthusiasm felt by Australians for taking an Indonesian holiday, the Indonesian Ministry of Tourism is targeting 1.4 million Australian tourists to visit Indonesia before the end of 2022.