As part of a 2-week long Sustainable Food Festival, The Bali Restaurant and Café Association (BRCA) and the Bali Hotel Association (BHA) are organizing "Sip and Savor" – a fundraising event showcasing sustainability among Bali Food and Beverage organizations, best practices, premium local products, and industry suppliers.
The organizers are committed to protecting the beauty of Bali and its communities and supporting and encouraging local innovators, produce, and supplies to strive for a sustainable future.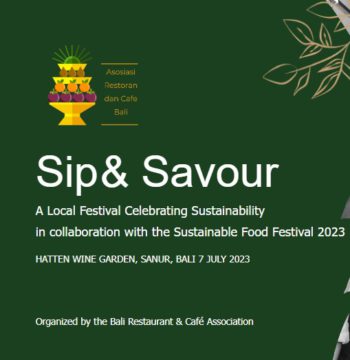 Sip and Savor
Sip and Savor Festival will be held in the open park area at Hatten Wine's Headquarters in Sanur, Bali, on 14 July 2023, starting at 4:00 pm.
The key elements of the festival include:
– Food and Beverage Bazaar – Celebrated Bali chefs and beverage experts will present a dazzling array of dishes and drinks created using local products.
– Service providers will present locally available sustainable products and services.
– Live Music – talented local musicians and entertainers will perform, helping to raise funds for some of Bali's neediest residents.
– Recycle-Upcycle – fun and educational activities to educate kids and parents on how to reuse and recycle.
– Charitable Foundations in Bali work tirelessly to assist Bali's poorest residents. Meet the personalities behind these charities, learn about their critically important work, and what you can do to help eradicate poverty in Bali.
– Cooking Classes – innovative chefs share cooking tips focusing on the mantra of reducing, reusing, and recycling.
– Workshops – gain ideas and learn how to make your business more sustainable.
– Community Fundraising – selected Bali charities will receive 20% of sales generated during this event.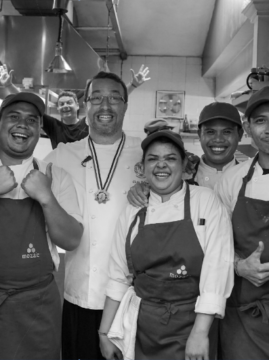 Chris Salans, the celebrity-chef owner of Bali's celebrated Mozaic Restaurant in Ubud and co-founder of the BRCA, commented: "Our mission at the BRCA is to develop and ensure all restaurants and cafes in Bali implement sustainable practices so that Bali can remain a world-class culinary destination. With this festival, our association, its members, and sustainability partners will join forces to showcase our values, sharing them with the public to create awareness of those fighting for sustainable tourism in Bali and attract like-minded people to join our cause."
BCRA co-founder Dean Keddell, chef-owner of Ginger Moon Canteen and Jackson Lily's, added: "The BRCA is focused on building relationships with local suppliers and producers and preserving local heritage. Purchasing local, seasonal ingredients often means purchasing the best possible product and being sustainable too. Join us at SIP AND SAVOR, where the best local produce and innovative sustainable practice are on show."
Admission tickets
Admission to this event is priced at Rp.100,000 and includes a welcome cocktail, wine, beer, or other beverages.
Tickets from participating restaurants, vendors, Hatten's Cellar Door, and the Bali! NOW are available! Tickets should be purchased before the event due to limited availability.
For detailed information on where to purchase tickets, please Email .
Vouchers
Vouchers for food & beverage will be available on-site from booths at the "Sip and Savor" event at the Hatten Park. F&B vouchers cost Rp. 25,000 each
20% of each sale will go to selected charitable organizations.
Bali Restaurant and Café Association Website
Sip and Savor-
A Local Food Festival Celebrating Sustainability
Hatten Park – Adjacent to Hatten's Cellar Door
Jalan Bypass Ngurah Rai No.393,
Sanur – Denpasar Selatan
Friday, July 14, 2023
4:00 PM until 11:00 PM
Bali Restaurant and Café Association Website
Stay Informed on Bali Tourism-Related News: Subscribe to Bali Update