Solemen takes fundraising to "literally" new levels on Saturday, 09 July 2022. Join the fun at Grace Kelly's Rooftop Irish Pub at The Bali Dynasty Hotel in Kuta during a two-hour free-flow cocktail party in aid of five local children in urgent need of major heart surgery to be performed in Jakarta.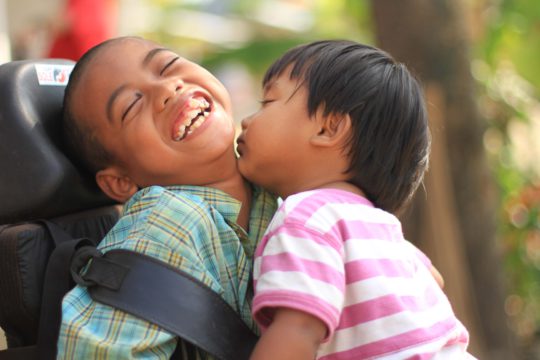 The money raised from this event will pay the remaining uncovered cost in connection with critically needed surgery for five children awaiting surgery. While the basic cost of the expert surgery is covered by the State Insurance Agency (BPJS), related costs – including travel expenses, accommodation in Jakarta for accompanying family members, and other medical fees still need your support. These costs are estimated at Rp. 35 million per family (totally Rp. 175 million).
The children awaiting surgery are:
Arinata is a 6 year who has been under Solemen care for a three-year period, including an initial life-saving operation. She now needs further surgery, including a craniofacial corrective procedure.   
Gede Budi is a 7-year-old from Singaraja who loves to play with lego and football with friends and is awaiting his next operation. He has been a "sole buddy" for three years. 
Eka Suputri has been under Solemen care for 6 years since birth. Eka is a Down Syndrome child who needs cardiac surgery.
Komang Widi is 2 years old and from Singaraja, north Bali awaiting life-saving surgery available in Jakarta. 
Wahyu has been a recipient of Solemen assistance for more than 10 years. She is now 12 years old.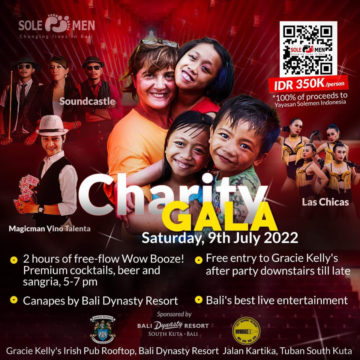 Join the Party and Help these Kids!
A two-hour cocktail from 5:00 pm – 7:00 pm featuring free-flow drinks from Wow Booze will offer premium cocktails, beer, and Sangria on the rooftop of Gracie Kelly's Irish Pub. Delicious canapes from Bali Dynasty will also be on tap, with live entertainment from Soundcastle, Magicman Vino Talenta, and Las Chicas. Participants will also be eligible for free admission to Gracie Kelly's Irish Pub, located just downstairs from the rooftop party.
Tickets can be purchased online via the Link .
Early bird tickets in advance cost Rp. 250,000 each, while tickets at the door are Rp. 350,000.
Unable to attend but wish to help? The same link allows the option of direct donations.
Solemen Charity Gala Sunset Cocktail
Rooftop – Bali Dynasty Resort
5:00 until 7:00 pm Saturday, 09 July 2022