A combined team from the Badung Regency Narcotics Squad and offices of the Customs and Excise Department have raided the North Kuta residence of a 50-year-old Spanish national, identified with the initials GASV, who was operating a home industry with 19 marijuana plants growing in his bathroom.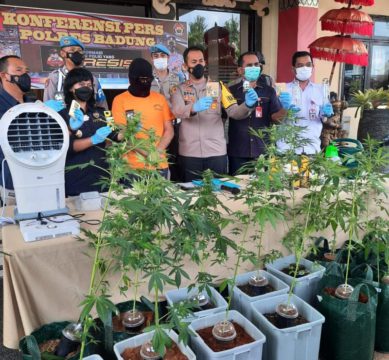 The head of the Badung Police Precinct, AKBP Leo Defretes, said on Thursday, 09 December 2021, that based on information received from the Customs Department regarding a postal packet sent from Spain containing marijuana seeds. Further investigations tracked the intended recipient to the Spanish man living in Bali and his eventual arrests by a team led by Iptu Budi Artama.
According to Detik.com, the seeds were addressed to the Spaniard's residence at Jalan Karang Suwung Gang Rambutan Nomor 5, Banjar Pelambinganm Desa Tibubeneng, in North Kuta.
When the man was interrogated and his premises inspected by Police, 19 marijuana potted plants measuring between 65cm and 108 cm high were found on the residence's second floor. Police say the bathroom had been renovated to become a hydroponic greenhouse for the cultivation of marijuana. These modifications included the installation of an LED lamp, and humidity controls and monitors. The "bathroom" was also equipped with an air conditioner, and containers of fertilizer and other materials were also found.
Based on interviews with the Spaniard, the marijuana in the house has been cultivated since October 2021. Seeds to grow the narcotics were sent from Amsterdam to Bali. Police believe the marijuana was being cultivated for sale. The man told police he had paid EURO 100 for the marijuana seeds shipped to his address in Bali.
Police sized 19 potted Cannabis Sativa plants and 17 marijuana seeds.
The Police said the Spaniard lived in Bali for 20 years."
The Spaniard faces being charged under Sections 113 and 111 of the National Anti-Narcotics Law of 2009 with a maximum penalty of 20 years in prison and a fine of Rp. 8 billion.