Craftsunitedbali.com – an excellent Bali-based website championing the art, design, and handicraft sector in Bali published an article on Bali's newest artistic hub at the Park 23 Mall in Tuban, Kuta.
On an island suffering from a surfeit of shopping malls, Park 23 Mall is rebranding itself as a culture and artistic community hub.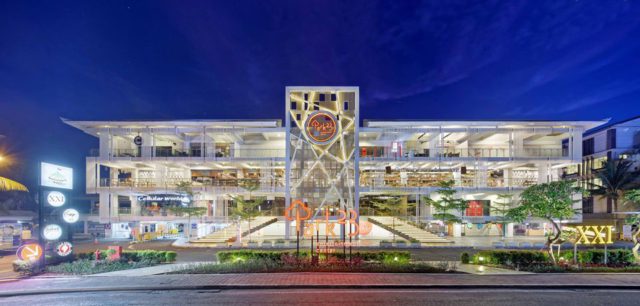 Suffering the similar decline of malls nationwide, Park 23 remains committed to rising from the ashes like a mythical Phoenix – to become the epicenter of a movement by Bali's emerging creative economies and artistic scene by developing a new and original exhibition and event space.
As reported by Craftsunitedbali.com, the goal of Park 23 is to create an innovative hub that can become either a platform in passing or a permanent home for collectives, upcoming bold F&B brands, digitals artists, gaming entrepreneurs, handicrafts purveyors, designers of inventive fashion ranges – reminiscent, in a way, of the legendary "Blok M" in faraway Jakarta.
Two Simultaneous Exhibitions at Park 23
A seminal event suggesting future events to come are two unique exhibitions taking place through 15 March 2022 at Park 23. Separate but equally compelling, the showroom space on the first floor of Park 23 will host "Art of the Bamboo," while a short distance away in the first-floor gallery "Steampunk & Industrial Vibes" will operate simultaneously until the mid-March end date. During the month-long exhibitions, there will be several musical events, informal talks, and workshops.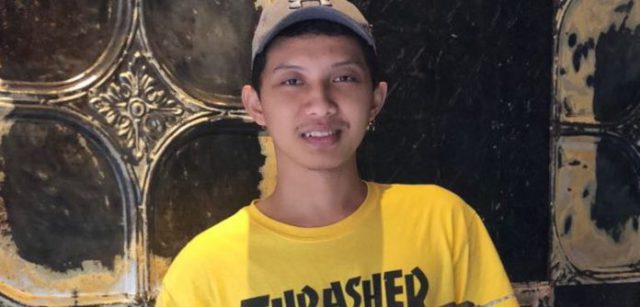 Steampunk & Industrial Vibes – Upcycling in Indonesia
For those unfamiliar with the term, "Steampunk" is an artistic aesthetic that blossomed during the industrial revolution. It champions a chimerical vision of humanity's place in an increasingly automated and mechanical world. More precisely, "Steampunk" also found its origins in a literary movement strongly influenced by science fiction.
Wawan Gondrong's Metal Art and the Ethereal Grace of Nuts, Bolts, and Spanners
Born in Java in 1984, Wawan Gondrong's art is all about the spontaneous repurposing of various steel and iron materials. He creates monumental sculptures created from hundreds of reassembled mechanical metal elements. The art pieces are inspired by science fiction and the world of Manga comics: think massive metallic Spartan warriors, Manchester-terrier mechanical robodogs, or cyborg droids requiring two months of welding and assembly.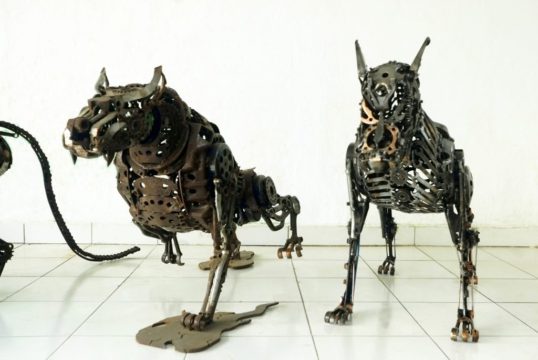 Wawan is an autodidact who arrived in Bali in 2013, where he scraped together a living by selling cardboard used for recycling and painting buildings. By 2015, he had learned welding and began collaborating with local artists.
Represented by Pascal Maillet who describes Wawan as drawing his inspiration for the modern era and the global trend of upcycling, and the new restraints of living during an environmental crisis that necessarily fosters inventive thinking. Wawan sources his raw materials from scrap yards and waste metal scavengers, buying by the kilo items that otherwise cannot be recycled. His creative approach is in the tradition of Duchamp's use of everyday consumer objects and refuse in art.
What makes Wawan's work profoundly original is the creation of beautiful, even graceful, statues from unlikely rough materials that include spanners, bolts, metal plates of all kinds, and other mechanical leftovers. Despite their industrial composition, his figures have an inherent strange, surreal, and powerful grace. Entering his studio is like stepping into a real-life Fritz Lang's Metropolis .
Somad: In the Footsteps of Neo-expressionist Predecessors
Working from a studio in Tegalalang, Ubud, Bali – Somad, born in Java in 1983, shares a love of classic Vespa motor scooters with his near neighbor, Wawan Gondrong. Self-taught and without the benefit of a formal art education, Somad immersed himself in the Ubud arts community of artists and painters, staying at cheap boarding houses on Jalan Gentong. Naturally gifted, Wawan has held successful solo exhibitions that included the Alila Hotel (2009), Mansion Hotel (2010), and Café des Artistes (2016, 2018).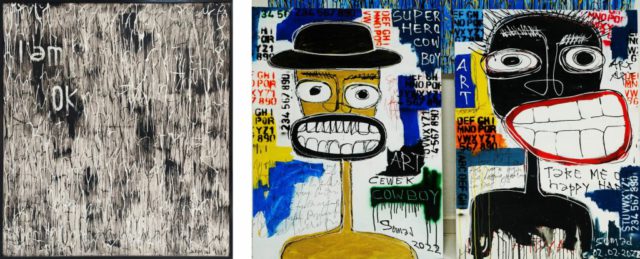 Watching a documentary about Jean-Michel Basquiat in Sanur's Darga Gallery in 1995 fueled a latent desire to become an artist. He was exhilarated by the freedom of thought and lifestyle that the American artist depicted via the engaging, raw beauty of his paintings. Somad similarly uses bright colors, graffiti style, and strong expressive lines, but without using the political messages against racism and colonialism that were a hallmark of Basquiat's work.
In his painting "Apa Kabar Mu Sayang" (How are you, my darling) (2021), Somad humorously shouts out his love for art. Not worried by stylistic changes, he has produced a distinctively different series of works inspired by action painting, and also employing the principle of drip painting. In the art piece 'I am OK,' the contrast between the text and the dark pictorial representation makes us smile sympathetically. It reminds and recalls the reverence-inspiring, quintessentially Indonesian trait of being resilient in responding to adversity.
Bingar: RailRoad Industrial or How Old Machinery Can Become Elegant Furniture
Also exhibiting at Park 23 during the month-long exhibition is Bingar, who works in a self-described milieu of "Railroad Industrial Space." Bingar gathers inspiration and raw material by wandering the road of Java scouring old workshops, factories, hospitals, and disused dentist's storerooms in search of objects he can transform to become steampunk-inspired designer objects, furniture, and lighting appliances.
In 2017, with the help of his architect brother, he opened a showroom North of Ubud. Reflecting what awaits within, this Bali atelier is a large rusted metal structure built with rounded angles that stands out spectacularly against its rice field setting. Bingar now exports his creations all over the world with many client-customers in Europe, the USA, Australia, New Zealand, and Japan.
Bingar's artistic journey began in Surabaya where, after completing a degree in graphic design, he opened a fashion shop that he decorated with industrial objects gleaned from here and there. His growing passion grew as did his eye for ferreting out exceptional items that became art in his hands.
Some might liken this unusual atelier to a time machine used to transport visitors into the industrial and colonial past of Indonesia. Inside await Dutch Philips lamps mounted on Japanese surveyor tripods, revealing the nostalgic beauty of another era's found in celebrating everyday objects.
Challenged to name his "craziest" project to date, Bingar might share how he created an unusual lamp ordered by a hotel in the Sukawati area of Bali. The resulting 7.5-meter tall lamp comprised of a tangle of metal piping could easily have qualified as a property suitable for use in the Wes Anderson film "French Dispatch" set in the improbably named locale of Ennui-sur-Blasé.
Each of Bingar's works of art is, the artist insists, "necessarily unique." Bolstered by a solid academic grounding, Bingar's studio is fully-equipped to produce accomplished and professionally produced graphic design drawings and technical plans composed on the very latest computerized programs and processes. Working from original objects or classic drawings, Bingar is capable of reproducing "Railroad Industrial Space" pieces hauntingly reminiscent of another era. For instance, he has made a table built from an old oven door. Maintaining a welding team in Bali as well as a workshop in Java, the resulting work defines the very essence of "Steampunk" – that is, at once, foreword looking while casting nostalgic glances of the past.
BAMBUSA – The Art of Bamboo
Also awaiting discovery at Park 23 until 15 March during the current exhibition are products drawn from Tungky Arianto's BAMBUSA Workshop. Working in laminated bamboo household and decorative items, Arianto's started business from a small shop in the Kerobokan area of Bali. Fame spread via a growing circle of customers and exports accounts, made even stronger by a growing list of downstream and spin-off products.
BAMBUSA products are now very much in evidence in Bali across a range of construction and architectural projects, furniture products, and decorative accents. The Company's range of dishes, boxes, baskets, and hanging lamps give witness to the versatility of environmentally sustainable bamboo products and the creativity of Tungky Arianto and his team.
Credits and thanks to www.craftunitedbali.com
Steampunk & Industrial Vibes
By Wawan Gandrung & Railroad Bali
Open Daily noon from through 9:00 pm
Through 15 March 2022
Park 23, Jalan Kediri – Tuban, Kuta Bali
Get to Park 23 with Google Maps
Somad (Somadjowo Wond Dsc) on Facebook