Indonesian "X" Files
A researcher from the Center for Astrophysical and Aeronautical Studies (LAPAN), Rhorom Priyatikanto, seeks to explain various photographs published on social media showing a beam of light descending into the Mount Merapi Volcano in Central Java, near Yogyakarta.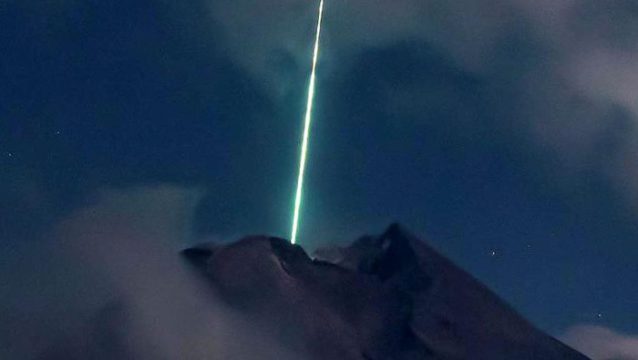 As reported by Tribunmews.com, Rhorom said on 27 May 2021, the widely-viewed photo seems to show a meteor descending into the mountain. Adding: "But it is not certain that the 'meteor fell at the peak of Mount Merapi and could have also fallen north of that location."
Rhorom said that working from only the photograph, it is difficult to confirm if the phenomenon represents a piece of a meteor falling to earth. He noted that it was possible to speculate that light of the intensity shown in the photographs could be created by a meteor fragment measuring around 10-centimeters in diameter.
The LAPAN official said that his agency has no instruments in place near Yogyakarta to undertake a detailed study of the interesting phenomenon.
The picture of the believed meteor was shared over the Instagram account @gunarto_song . The image was recorded near the Adem River (Kali Adem), Cangkringan, Yogyakarta, on Thursday, 17 May 2021, at around 11:07 pm local time.
Government agencies in the region recorded no sound waves or seismic occurrences coinciding with the time of the sighting.