NusaBali.com reports that the Livestock and Animal Husbandry Department of the Badung Regency vaccinated 63 free-roaming dogs against rabies on Legian Beach on Tuesday, 23 March 2021.
The program to reduce rabies cases is a collaborative effort between the Rumah Singgah Satwa & Dog Lovers Legian working with the Badung Regency Administration, the Kelurahan of Legian, and volunteer feeders from the Love Bali Dogs and Lucky Dog Rescue Bali.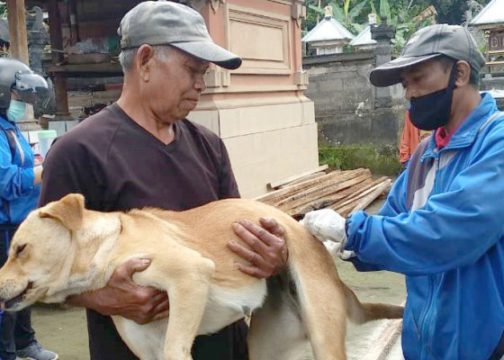 Starting from 9:00 am, volunteers gathered at the boundary post separating Legian and Seminyak to commence a sweep of Legian Beach, gathering stray dogs for rabies vaccination.
Tio Russ of Rumah Singgah Satwa & Dog Lovers commented: "This activity represents just one form of our continuing concern as dog-lovers to safeguard Legian Beach – a popular destination for both domestic and international visitors."
Continuing, Tio Russ explained that most of the free-roaming dogs on Legian Beach had been sterilized in efforts organized by volunteer feeders. There are a few dogs recently abandoned on the beach that have not been sterilized. Adding: "This is a dilemma for volunteer feeders who are good people who donate their time and money on a daily basis to feed these dogs."
Tio condemned people who thoughtlessly and unwisely leave their former pet dogs on the beach. This results in increasingly uncontrolled stray dogs that cause social friction that will further victimize the abandoned dogs.
Ida Bagus Putu Adnyana, the head of the Technical Unit of the Livestock and Animal Husbandry Service in Kuta, expressed his support for sterilizing and inoculating stay dogs on the beaches of Kuta. His office provided the rabies vaccines and assisted with additional medical personnel and four veterinarians to the latest Legian Beach health sweep.
During the 23 March rabies vaccination program, residents living in the areas surrounding Legian Beach brought their pet dogs to the volunteers to be vaccinated on a no-cost basis.