The Sukawati Traditional Art Market in Bali's Regency of Gianyar has been transformed with the completion of Block C at the market complex.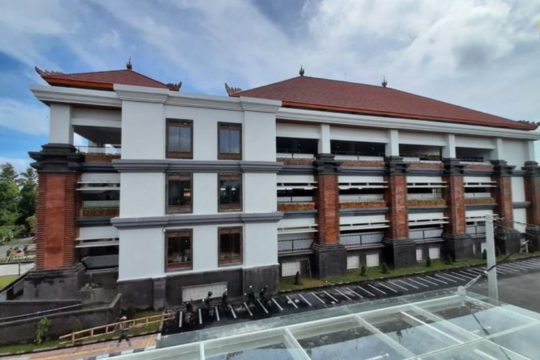 The completion of Block C at the Sukawati Market complements Block A and Block B, which opened in 2020.
Quoted by BaliPost.com, The Minister for Public Works and Housing Basuki Hadimuljono said rebuilding the Sukawati Traditional Art Market prioritized the local architecture of Bali because the complex operates not only as an economic center but also as a tourism destination for the Regency of Gianyar.
The Sukawati Traditional Art Market stands on the main tourism thoroughfare from South Bali to Ubud and Kintamani.
"The underlying concept of the market's revitalization has been done to comply with its function as a tourism destination. In keeping with the environmental concerns and local traditions, details starting from the planning of the market through its actual construction honor the principles of creating an environmentally green building," said Basuki in a press statement made on Sunday, 08 May 2022.
Block C
Block C of the Sukawati Traditional Art Market is four stories high, including a basement, covering some 10,206.95 square meters of space. The Block C market is home to 529 stands, 64 kiosks, and parking for 279 two-wheeled vehicles. The building was constructed to allow use by disabled workers and visitors. The shopping complex also features public toilets, lifts, nursing rooms, a health center, and a children's play area.
Block C of the Sukawati Traditional Art Market began construction on 13 November 2020 and was completed on 20 December 2021 at the cost of Rp. 87.3 billion. PT Adhi Persada Gedung constructed the building with construction management by PT Bina Karya.
The official handover of Block C by the Ministry of Public Works to the Gianyar Regency was done in February 2022. The Director of Strategic Infrastructure for the Director-General of Cipta Karya, Essy Asiah, said she hopes that the management of the Sukawati Market will be done professionally. "This market is an icon of Bali tourism; we hope it can be managed well."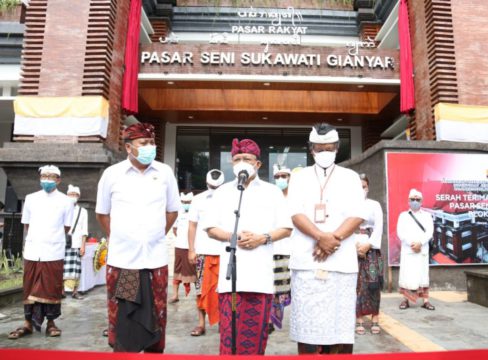 The Governor of Bali said that in terms of its physical construction, the Sukawati Market is outstanding, with good lighting and excellent air circulation making air conditioning unnecessary. "I want the traders working her to sell products made in Bali, shirts made in Bali, Balinese sarongs, and bags made in Bali. All that is sold here should drive the economy of Bali," said Governor Koster.
Earlier, Block A, standing four stories and covering 9,493 square meters of space, and Block B, with three floors is home to 31 kiosks and 779 market stalls. 
All three sections – Block A, B, and C, include integrated parking spaces.