A "must" on any bucket list of places of traditional culture to be included on a tour of Bali is the Royal Water Palace of Taman Ujung Soekasada, located on Bali's eastern shore, located some 5-kilometers from the city of Amlapura.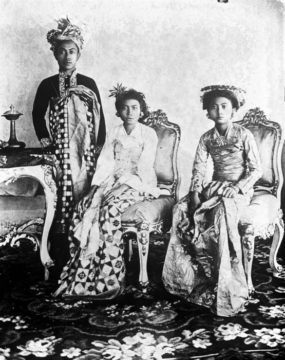 The water palace was built in 1901 by Raja Agung Anglirah Ketut Karangasem, more familiarly known a I Gusti Bagus Jelntik.
Originally built to contain a single pool – Kolam Dirah – in 1909, the Raja commissioned a Dutch architect, Van Den Hentz, in partnership with the Chinese Architect, Loto Ang, to develop a single bathing pool into a larger recreational retreat for the Royal family and a place of entertainment for VIP visitors to Djelantik's kingdom.
The expanded Taman Ujung Soekasada, completed in 1921, is comprised of numerous pools, pavilions, and promenades that dominate the massive 400-hecater site. The Taman Ujung Soekasada today has shrunk to just 10-hectares, with much of the Royal Family's original land given to local citizens as part of a government land-reform program.
Bridges and walkways lead over three main pools to the central main building Gili Bale. A marble plaque installed in 1937 proclaims the Garden's formal inauguration in Latin, Balinese, Malay, and Balinese.
Time and history have taken its toll on Taman Ujung Soekasada. The steel fencing surrounding the complex was removed during WWII and weaponized by local villagers as spears and lances. The massive eruption of Mount Agung in 1963-1964, killing an estimated 1,500 people, and an earthquake in 1975 also damaged the palace that was falling into decline. A massive renovation and remodeling in the year 2000 restored much of the historic site's former glory.
Struggling in the course of the continuing current global pandemic, Taman Ujung Sekasada is now engaged in an existential struggle due to a worsening lack of operating funds as visitors have largely slowed to a trickle.
As reported by NusaBali, the general manager of Taman Ujung, Ida Made Alit, confesses he is increasingly worried about paying overheads and operating costs.
At the onset of the coronavirus pandemic, from 23 March until 10 July 2020, Taman Ujung Soekasada closed to visitors. Reopening to the public on 11 July 2020, visitors' daily proceeds since July have averaged daily a measly Rp. 300,000 to Rp. 900,000. This amount does not cover payroll and operating costs. Payments of tax contributions to the Regency of Karangasem have been necessarily suspended.
Salaries to workers and staff at Taman Ujung from March 2020 until March 2021 have been slashed by 50% using Rp. 306 million in cash reserves. In normal times, wages for 50 employees amount to Rp. 800 million. 
Cash reserves for Taman Ujung are now said to be almost depleted. Officials fear they will soon have to furlough workers to their homes unless urgent financial air is not forthcoming from the government.
Before the pandemic, Taman Ujung paid taxes to the Karangasem Regency of Rp. 1.5 billion in 2018, and Rp. 1.7 billion in 2019. Underlining the reversal in fortunes brought on by COVID-19, in 2020, Taman Ujung paid no taxes to the Regency.
One of the highest operating expenses for Taman Ujung is Rp. 10 million each month for electrical costs. As a cost-saving measure, lights are now being extinguished, and the entire 9-hectare complex now goes dark each night.