Under the auspices of the Yayasan Mudra Swari Saraswati, the Ubud Artisan Market will present a two-day exhibition of Balinese textiles Saturday 12 February and Sunday 13 February 2022 at Indus restaurant in Sanggingan, Ubud.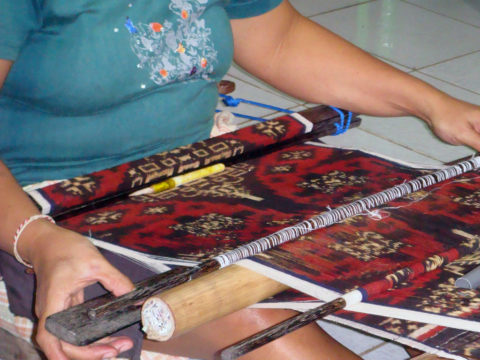 Weavers from 6 regions of Bali will present a diverse range of textiles, ranging from traditional to contemporary, displaying their different motifs, colors, and styles. The participants include:
Tenun Pesalakan from Pejeng,
Cap Menuh and Kain Menggahagung from Gianyar
Putri Mas from Jembrana
Alam Mesari from Nusa Penida
Umah Grinsing from Tenganan
Pagi Motley and Alamanda Sudaji from Singaraja.
Weavers from each of these regions remain committed to preserving Bali's rich textile heritage, with many using natural dyes extracted from native leaves and tree barks to create their unique cloths.
The program runs on each of the two dates from 12:00 pm until 9:00 pm. In addition to the stunning exhibition of textiles, the two days will also include live weaving demonstrations, panel discussions with featured guest speakers, and films.
Discussions will focus on weaving during a continuing pandemic, innovations in the weaving industry, the importance of natural dyes, and strategies for survival into the future. Videos from various villages highlighting regional weaving techniques and styles will also be shown.
Items on display will be available for purchase. Downstairs from the exhibition, Ubud's fabled Indus Restaurant will be open for those wishing to talk weaving and textiles or simply wanting to enjoy a meal overlooking the Tjampuhan ridge.
'I'm thrilled to be presenting this outstanding range of Balinese textiles,' said Janet DeNeefe, founder of the Ubud Artisan Market. 'This unique heritage craft is an important part of the Balinese identity and should be preserved at all costs."'
"When Covid struck, many of the women in our village were left without work," said Made Astawa, head of Pejeng Kangen Banjar. "With the help of the local Government and some expat residents, we decided to revive our old weaving industry. We're proud to exhibit our textiles at Indus and share our latest designs."
Entry to the exhibition is free. This is a pilot exhibition for a larger event planned at a later date.
The current exhibition is an initiative of the Yayasan Mudra Swari Saraswati – a non-government, non-profit organization committed to enriching the lives and livelihoods of Indonesians through a range of community-building arts and cultural programs.
Weaving Stories: Textile Exhibition in Ubud, Bali
12 & 13 February 2022
Indus Restaurant
Jalan Raya Sanggingan No. 88X
Ubud, Bali
Telephone +62-(0)361 9086910