Bali Update and balidiscovery.com have sadly learned of the sudden and unexpected death of Dedi Liem Gunawan in Washington, D.C., on the evening of Tuesday, 16 November 2021.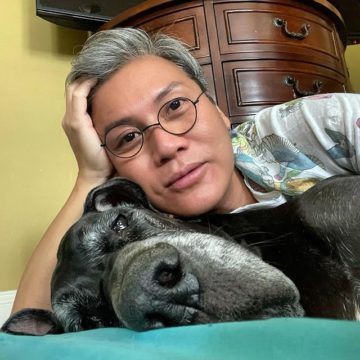 Born in Jakarta on 13 December 1973, Dedi Gunawan was a resident of Washington, D.C., but had maintained a home in Bali for many years.
He was 47 years of age.
A man of many parts and enchantments, Dedi Gunawan, could be described in various ways. He was genuinely "larger than life" – making a grand entrance while creating a memorable and positive impression on all those he encountered. Loving to entertain and be entertained lavishly, Dedi was a bon vivant whose beverage of choice was Champagne that he unfailingly and regularly shared generously with friends and acquaintances.
Washington D.C. was "home" for Dedi, where he lived lovingly with Dr. Wayne Hickory DDS and the world's most indulged Great Dane, Chouko Dai.
Well known in Washington, D.C. society, Dedi served for more than 20 years on the board of directors of the U.S. Capital's preeminent contemporary dance troupe – The Dana Tai Soon Burgess Dance Company. A Legacy Fund on the Dance Company's Website has now been set up in Dedi's memory.
Dedi Liem Gunawan also made Bali his home for many years, where he had many friends among both the Indonesian and expatriate communities.
In Bali, he was a stalwart of the KabaKaba Opera Society – a group that regularly met to enjoy digital recordings of outstanding international opera performances. Opera's impossible twists and turns of plot, elaborate costumes and stagings, and grand eloquent singing and musical performance described a life not in the least alien to "Darlin' Dedi,"
A small gallery of images from the life of Dedi Liem Gunawan Hickory is included with this article, attempting to catch some of the immense charm and vitality of this departed friend and colleague.
A celebration of the life of Dedi Liem Gunawan Hickory will take place on Saturday, 04 December 2021, at The Joseph Gawler's Sons Funeral Home, 5130 Wisconsin N.W. in Washington, D.C.. A remembrance ceremony will be held from 4:00-5:00 PM followed by a reception from 5:00 – 7:00 PM.
RSVPs are required to attend the 04 December 2021 Event.
Those wishing to leave a tribute to this remarkable person can do so at: Dedi Liem Gunawan's Facebook Page
or at
Dedi Liem Gunawan Hickory's Dignity Memorial Page,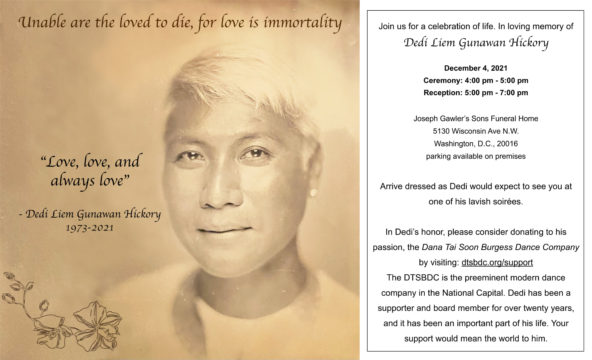 R I P
Dedi Liem Gunawan Hickory
1973 – 2021