RadarBali.com and Bali.tribune.com report that feelings of anger and resentment towards the continuing "depression" of the Island's tourism industry is approaching a boiling point with tourism practitioners threatening to take to the streets if Bali is not reopened to international tourism.
Since March of 2020, Bali's tourism sector has been in disarray and devoid of guests. Minor comebacks in the form of surges of domestic passenger arrivals or announcements of airport reopening to foreign visitors have, time and again, encountered setbacks. Hoped for peak season revivals in visitor numbers have been undercut by central government lockdowns and regulated travel restrictions. The symbolic announcement of a reopening of Bali's airport to international flights on 14 October 2021 has, two months on, come to naught with tourists visitors dissuaded from visiting Bali by burdensome visas rules, sponsorship letters, expensive insurance premiums, and draconian quarantine requirements. Meanwhile, government grants to tourism businesses have remained out of the reach of many due to bureaucratic procedures and requirements. Moreover, aid intended for tourism workers made jobless by the pandemic has, in many cases, been given only to Balinese workers leaving some of the worst affected workers from outer islands without funds to return to their home villages.
Continuing hardships have morphed into palatable anger with tourism leaders responding cynically to a recent statement by Bali's Governor Wayan Koster urging members of the tourism sector to "remain patient." Speaking before a conference of the Bali Federation of Tourism Union Workers (Federasi Serikat Perkerja Pariwisata Provinsi Bali) on 06 December 2021, the Governor said, "We all need to be patient." Governor Koster warned that if the borders were suddenly reopened and the rate of infections increased as a result, it will be very difficult to overcome the resulting situation.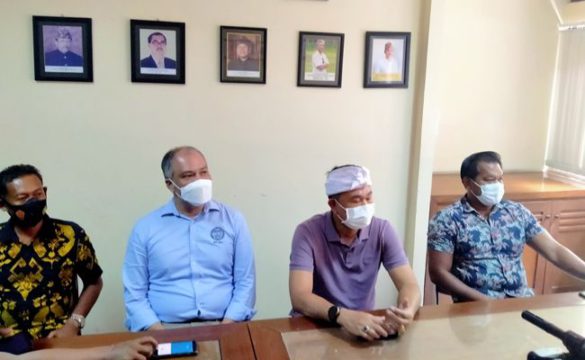 The Governor's call for patience in the current circumstance triggered a cynical response from the chairman of the Bali Tourism Board (BTB), Ida Bagus Agung Partha Adnyana, who said, "Maybe his (the Governor's) saving account balance is still high."
A Threat to Take to the Streets of Bali
Adnyana referred to an open letter sent on 19 October 2021 by the Bali Arise Forum (Forum Bangkit Bali) that has yet to be dignified with a formal response by the Central Government. Quoted by Bali.tribune.com, Adnyana said: "It's been three weeks since we published the open letter and there has been no response from the Central Government. There has been some minor coordination; maybe the government is still thinking, while we are consistent in our support for the letter sent to Jakarta."
Adnyana said he is coordinating with all tourism stakeholders in Bali.
Adnyana's comments were made during a press conference held at the offices of the BTB in Central Denpasar on Wednesday, 08 December 2021.
Adding to the acrimony, a leading tourism stakeholder in Bali speaking at the press conference, I Wayan Puspa Negara, commented that the patience of the people of Bali was at an end. Adding: "The people's lower classes have spent all their savings."
Puspa Negara, who is chairman of the Alliance of Bali's Marginal Workers in Tourism (APPMB) said he hoped that December 2021 would bring a change in the fortunes of the Balinese public with the last month of the year usually representing a high season for Bali tourism.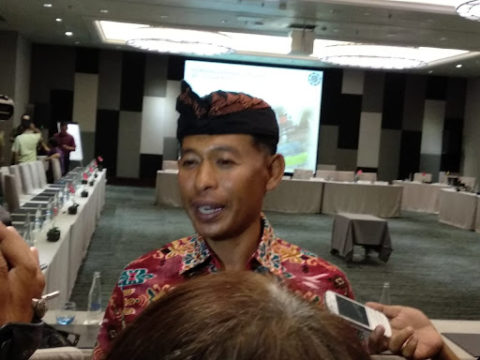 Referring to the fact that 52% of the Regional Domestic Product in Bali is linked to tourism, Adnyana said the people are in desperate need of a tourism recovery to commence. Adding: "We have no more time to wait. With only domestic tourists, the average occupancy rate of hotels is only 10.97%."
Puspa Negara then sounded an ominous warning of possible public unrest, saying: "If until December there is no change, then we will take to the streets."
Quarantine Periods and Visa Requirements
Puspa Negara told the assembled press that a number of recent government policies regarding tourism have become problematic. First on his list were rules on lengthy quarantine periods and, secondly, the lack of visas on arrivals. He described how competing tourism destinations in the region were reducing or eliminating quarantine requirements. He said it was now time for the government to reintroduce the visa-on-arrival facility.
Continuing, Puspa Negara said: "Furthermore, countries such as Australia need to be reopened. (New) cases of COVID-19 in Bali are on the decline, vaccines have been given to more than (sic) one hundred percent. PCR testing is available, We have done everything we can."
For these reasons, Puspa Negara urged the government to quickly adopt policies that are "pro-tourism" and also "pro-people" – helping the lower classes who work in Bali tourism.