As reported by Kompas.com, the Minister for Tourism and the Creative Economy, Sandiaga Uno, has issued a spirited response to those criticizing his "Work from Bali "(WFB) initiative intended to provide needed business the ailing Bali tourism industry.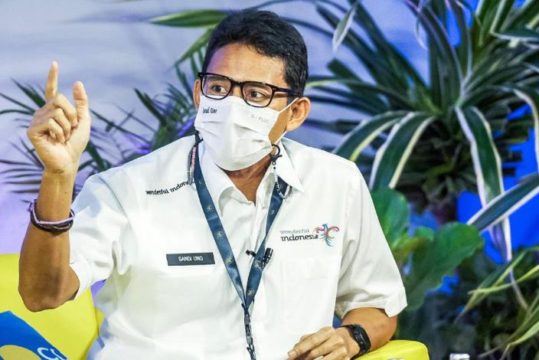 The Minister claims that the WFB strategy is based on hard data on COVID-19 infections, the latest health information, and economic considerations. Speaking at his weekly press briefing on Tuesday, 22 June 2021, Sandiaga added: "The Ministry of Tourism and the Creative Economy has established this strategy based on our available data as seen from the perspective of health, the economy, and other aspects impacting on the tourism and creative sector.
The Minister acknowledged the data available about COVID-19 is highly dynamic and ever-changing. Accordingly, policies and strategies to deal with tourism and the coronavirus will be adjusted to meet a changing landscape. "The data from two weeks ago and today are different, and policies must be continually adjusted. That is our commitment," said the Tourism Minister.
The Minister hopes the public and the press would remember that his Ministry is forming policies based on business and scientific data. The "Work from Bali" or "Work from Destination" program is an innovation to mitigate the economic impact of the ongoing pandemic. The Minister emphasized that he is fully aware this strategy must be modified with the latest health protocols to prevent the spread of COVID-19. Adding," if all is done within the framework of strict and disciplined health protocols, 'WFB' is an adaptive and innovative step during a challenging economic situation."
In recent days, there has been a dramatic upsurge in new cases of COVID-19 in Bali. The Secretary of the Task Force for COVID-19 in Bali, I Made Rentin, blamed the sudden increase on the large number of domestic travelers visiting the Island on holidays or as part of the new "WFB" program.
Separately, an Indonesian Public Policy observer, Tribus Rahardiansyah, urges the government to postpone the "Work from Bali" program offered to Indonesian Civil Servants from seven ministries scheduled to start in July 2021. "I believe it is best to postpone for now the WFB policy. COVID-19 is undergoing an explosive outbreak," Tribus told Kompas.com on Tuesday, 22 June 2021.
He also urged the government to more thoroughly prepare for "Work from Bali" while waiting for the COVID-19 situation in Indonesia to improve. These preparations include refining the rules and regulations for "WFB" and defining the funding sources for the program.