The Indonesia Minister of Tourism and the Creative Economic Sandiaga Uno met with General Listyo Sigit Prabowo, the Indonesian Chief of Police, in Jakarta on Wednesday, 24 February 2021, to coordinate steps to help restore Indonesian tourism during the COVID-19 pandemic.
President Joko Widodo has designated five "super-priority destinations" for tourism that will receive central government support in developing their infrastructures, developing networks, enhancing their local creative economy, establishing a calendar of events, and promoting tourism.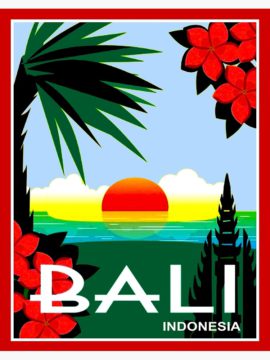 Quoted by the Bali Post and the State News Agency Antara, Minister Sandiaga said some 34 million Indonesians depend for their livelihoods on the tourism and creative sector. Continuing, he said any effort to restore and rebuild the Nation's tourism sector needs to prioritize the strict implementation of health protocols to prevent the creation of new COVID-19 clusters of infection.
Saying Indonesia needs to prepare major events to restart tourism, Sandiaga said he was coordinating with the National Chief of Police to create a positive and real impression to the outside world. The world must be made aware that every step is being taken to prevent the spread of COVID-19 in hosting tourism-related events.
The tourism ministers also discussed synergistic steps with the Indonesian Police needed to accelerate the establishment of the five "super-priority destinations."
While developing new tourism destinations, the Indonesia Police will also lend their assistance in helping destinations such as Bali and Yogyakarta restore their tourism industries. "We shared with the Minister of Tourism that our 'backbone' tourism destinations also need our attention, such as Bali and other tourism destinations that are famous and known the world over," said Police General Sigit.
The Police General said that he had already reviewed leading tourism destinations, such a Yogyakarta and Bali. In his opinion, policies to introduce limitations on gatherings and movements (PPKM) function well in these locales.
The Police Chief ardently believes that PPKM Micro policies are a sure-fire way to persuade domestic and international tourism visitors that Indonesia is safe to visit with little fear of COVID-19 contagion. Equally important, he said, is continued strict adherence commencing from arrival at a destination to guidelines on hygiene, washing hands, wearing masks, and maintaining social distancing. Adding: "These guidelines should start from when guests arrive at a hotel, where health protocols must be followed to create a sense of comfort and safety for all tourist visitors."
Indonesia's top police officer said that when tourist visitors are found to test positive for COVID-19, then special isolation accommodation must be in readiness.
In closing, General Sigit said that if all parties properly prepare tourism destinations, they will quickly regain their once-robust positions in the Nation's tourism economy.