TREVO – a new car-sharing application meeting with great success in Jakarta is establishing an operational base in Bali to meet the car rental needs of locals, "staycationers," and holidaymakers – both foreign and domestic. Using a single application, TREVO users or "guests" can select from a range of vehicles for rental on a daily, weekly, or even for a few hours – from trusted and vetted local owners.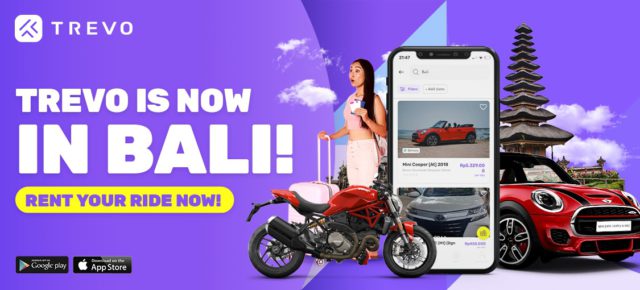 Bali visitors can select high-end sports cars, family cars, city cars, or SUVs using the application. Guests can also have the option of renting with or without a driver. TREVO seeks to eliminate the need to spend time and money making multiple bookings from existing ride-hailing applications by now having their "own" car delivered to their doorstep in Bali within 3 hours of placing an order.
Brandon Curson, the general manager of TREVO, commented: "TREVO matches guests in need of a private and comfortable ride with hosts seeking to earn money through their idle vehicles. We hope this match-making model will be particularly helpful to Bali locals. The pandemic has delivered quite a blow to Bali tourism, and many local businesses rely upon this industry. TREVO allows local vehicle owners to make some extra income, and they can rest easy knowing that TREVO shield insurance will safeguard their vehicles from theft and damages."
"Our commitment to helping revitalize Bali tourism extends to the partnerships we're forging. We are now partnering with the Bali Tourism Board to support the local community in its efforts to revive the tourism industry gradually. We're also supporting the 'Back to Bali' campaign initiated by the Finns Recreation Club and its affiliates. As Bali gradually reopens its doors to tourists, both partnerships are expected to help vehicle owners supplement their incomes," Curson added.
TREVO was launched in Jakarta in December 2020 and managed my mid-2021 to build a community of over 100,000 hosts and guests.
TREVO attributes its fast-growing success to creating an easy booking process, speedy customer care, insurance protection, GPS tracking, and the freedom provided to decline or accept bookings.
TREVO reports that the Malaysian-based parent company has successfully secured series B funding. These funds will expand existing markets and permit launches into new cities and other countries. Over time, TREVO will expand its platform offerings to include motorcycles, helicopters, boats, and other motorized vehicles. 
Related Links
TREVO Application on Play Google