Here's a list of five extremely affordable and simple restaurants in Bali serving authentic Balinese cuisine.
Warung Mak Beng – located at Jalan Hang Tuah No. 45 in Sanur Beach, this local eatery has been in operation since 1942. Despite shortened operating hours and seating capacity limitations due to COVID-19 regulations, Warung Mak Beng's loyal customers continue to flock to this deceptively simple and affordable venue. The signature dish at Warung Mak Beng is, in fact, a condiment' "Sambal Mak Beng" is a rosy-red chili sauce usually spooned into fish soup or ikan goreng (fried fish). While limited in choice, the menu selection is a delicious tabling of white rice, fish soup in a savory yellow broth, fried fish, and – of course – the de reiguer sambal sauce. The fish soup is made with cakal or kuwe fish, immersed in a delicious soup made with Laos (galangal), turmeric, and sambal spices. A serving of the multi-course meal served up at Warung Mak Beng costs around Rp. 55,000.
Open daily from 8:00 am until 8:00 pm.
Warung Nasi Bali Men Weti – is located on Jalan Letda Reta No. 52 in East Denpasar. Open daily from 08:00 am until 3:00 pm, this popular restaurant serves the Balinese staple of a generous helping of white rice with an ever-changing accompaniment of vegetables ranging from fried bean sprouts (tauge), string beans, water spinach, to goose weed leaves (sphenoclea zeylanica). The vegetables are complemented by spicy shredded chicken betutu, a hard-boiled egg, belinjo crackers (emping), and fried shredded coconut. The specialty at Warung Nasi Men Weti the eponymous "Nasi Bali Men Wati" that features a plate of rice, a boiled egg, Jukut Urap, fried chicken skin, fried crushed peanuts, and sambal.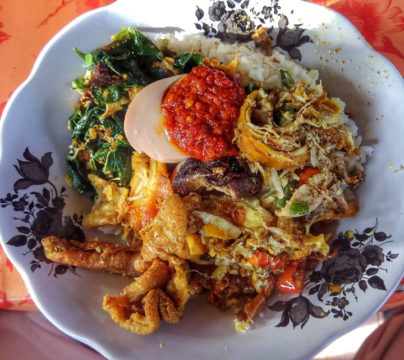 Warung Made –Jalan Raya Seminyak in Kuta. The legendary and extensive Warung Made traces its roots to the much-humbler, and still-standing Warung Made near "Bemo Corner" in Kuta that first opened in 1969. Their menu is famous for its list of authentic Indonesian specialties that include lightly fried green beans, sweet corn, eggplant, gado-gado, salted fish (ikan asin), fish terrine (pepes ikan), and much more. The trademark dish at Warung Made is their generously portioned "nasi campur" that includes chicken and duck betutu. Simple meals begin from a very affordable Rp. 20,000. Warung Made is open from 10:00 am until the mandated closing time during the continuing pandemic.
Ayam Betutu Men Tempeh – is somewhat out of the way unless you're traveling between Bali and East Java by ferry. Look for this restaurant in the "old" terminal of the Bali-Jawa Ferry at Gilimanuk. In keeping with its name, this restaurant's Ayam Betutu is a superbly spicy way of preparing chicken specific to Bali. Ayam Betutu is served with plecing and Bali's mouth and eye-watering sambal matah. Ayam Betutu Men Tempeh is open daily from 07:00 am until the mandated closing time.
Nasi Ayam Kedewatan Bu Mangku – Jalan Raya Kedewatan No. 18, in Ubud. Open daily from 08:00 am until 6:00 pm, people still throng (but with masks and at a respectable distance from one another) to this landmark warung. Food is served from a curtained buffet from which visitors pick from a wide range of delicious dishes to be added to their rice plate. The choice is vast – an ever-changing, affordable, and unfailingly Balinese feast. Not to be missed!
Selamat Makam and Bon Appetit!