The 2021 edition of CNN Heroes: An All-Star Tribute will be broadcast internationally on Sunday, 12 December 2021.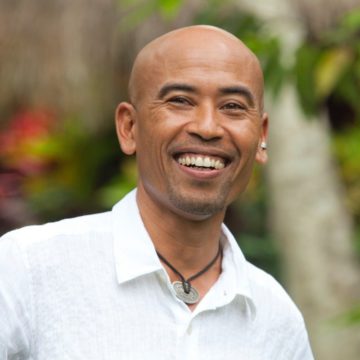 First launched in 2007, CNN established the CNN Heroes Program to recognize people worldwide who have made extraordinary contributions to humanitarian aid and their surrounding communities.
Since 2016, CNN broadcasters Anderson Cooper and Kelly Ripa have hosted the annual televised awards ceremony. Ten nominees for each year's award ceremony have their backgrounds posted on the official CNN Hero Website where people can vote up to ten times each day until voting closes on 07 December 2021.
During the 15-year history of the CNN Heroes Program, Indonesia has seen three nominees, including Made Janur, nominated for their heroism. In 2009, Budi Soehardi, a retired pilot and the founder of the Roslin Orphanage in Kupang, East Nusa Tenggara was among those nominated as a CNN Hero. Also honored was Robin Lim of the Bumi Sehat Foundation, who won the Hero Award in 2021 for her midwifery work among the poor in Bali.
Every nominee automatically receives a grant of US$10,000. The nominee getting the most votes this year will be announced on CNN on Sunday, 12 December 2021 at 8:00 pm Eastern Standard Time and will receive an additional award of US$100,000 to further the winner's humanitarian work.
Among the ten nominees competing to be named the CNN Hero of 2021 is a Balinese man, Made Janur Yasa. Yasa has established a "plastic exchange" in Bali that provides badly needed rice to families who collect plastic waste for recycling at a processing center that he established. Made Janur's initiative operates in 200 villages in Bali and provides food support to thousands of people.
"It takes a village to get the job done," said Janur on his Facebook page. Adding: "I am proud to see the community come together to dream together for the common goal to cultivate dignity, prosperity, and the environment of Bali that we call on."
When not busy recycling plastic and distributing rice to "collectors," Made Yuasa operate the Moska Restaurant in Sayan Ubud, Central Bali. Moska is a plant-based restaurant and permaculture restaurant that strives to feed many while making a minimal footprint on the planet's delicate ecosystem.
Vote Now and Vote Daily Until 07 December 2021
The worldwide community can vote online for up to ten votes each day through 07 December 2021.
Balidiscovery.com and Bali Update urge its reader to cast their allocated ten votes each day now through 07 December 2021 for our island hero, Made Janur Yasa, who has big dreams to spend the US$100,000 prize money to save the world, starting by ridding his island home of plastic waste.
While voting, consider visiting Made Janur Yasa's Plastic Exchange and consider making an online cash contribution to this important project,
Related Links
Moksa Restaurant in Ubud, Bali
Plastic Exchange: Bali Facebook Page
The Plastic Exchange Instagram Page