The Meteorology, Climate, and Geophysics Agency (BMKG) is warning people living in several regions to be prepared for the possibility of extreme weather during the post-Easter week in April 2021.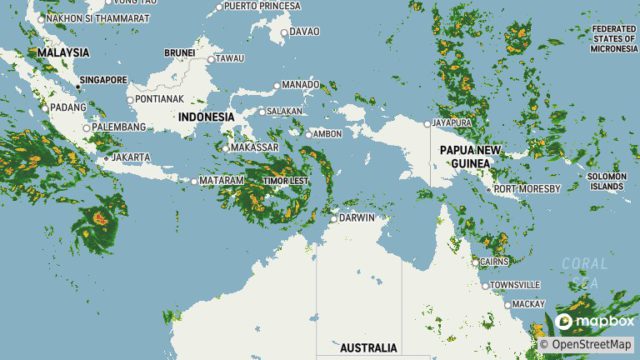 Quoted by Detik.com, a deputy forecaster for BMKG, Guswanto, issued a written statement on 03 April 2021, saying, "the BMKG's Tropical Cyclone Warning Center (TCWC) in Jakarta has detected two developing tropical cyclones. One at 90 degrees south latitude in the Indian Ocean southwest of Sumatra and another at 90 degrees south latitude in the Sawu Sea in Eastern Nusa Tenggara.
The forecaster explained that the two developing cyclonic systems could significantly contribute to atmospheric lability and the creation of rain in surrounding areas. The existence of the developing cyclonic systems can result in stronger winds that will increase wave heights in selected Indonesia oceans.
On 03 April, Guswanto said: "Based on this condition, BMKG is forecasting the potential of extreme weather in the form of heavy rains, strong winds, and high waves in the coming week in certain areas of Indonesia."
Guswanto explained that an analysis of atmospheric-oceanographic dynamics shows that "La Nina" will continue to influence weather patterns until it neutralizes in May 2021. The resulting Madden-Julian Oscillation (MJO) will be observed in combination with the Kelvin and Rossby Equatorial Wave that can bring heavy rains.
The BMKG predicts the potential of strong winds in the following areas:
1. South Sulawesi
2. Bali
3. West Nusa Tenggara
4. East Nusa Tenggara
The BMKG predicts moderate to heavy rains in the following areas:
1. Aceh
2. North Sumatra
3. West Sumatra
4. Bencoolen
5. Lampung
6. South Sumatra
7. Banten
8. Jakarta
9. West Java
10. Central Java
11. Yogyakarta
12. East Java
13. North Kalimantan
14. Centra Sulawesi
15. Southeast Sulawesi
16. Maluku
17. Papua
The BMKG predict the potential for strong winds in the following areas:
1. Lampung
2. Banten
3. Central Java
4. Yogyakarta
5. East Java
6. Bali
7. West Nusa Tenggara
8. East Nusa Tenggara
9. South Sulawesi
BMKG states there exists the potential of waves above 4 meters occurring in the Mentawai Islands, the waters of Enggano Island, waters to the west of Lampung, the western and southern regions of the Sunda Straits, the southern waters of Banten, and the western Indonesian Oceans off the Mentawai Islands, and to the south of West Java.
Meanwhile, the potential for flooding through the first week of April is on an alert for the following areas: South Sulawesi and East Nusa Tenggara.
Guswanto provided the following closing statement: "The public is urged to remain vigilant and cautious of the potential for extreme weather (heavy rain and very heavy which can be accompanied by lightning, strong winds, high waves, etc.) and the impact of resulting hydro-meteorological disasters such as floods, landslides, flash floods, puddles, and fallen trees. "