An official from the Jembrana Regency Office of Fishery and Sea Resources Agency (PSDKP), Nopen Setiawan, suspects the dead carcass of a 7.5-meter long whale shark (Hiu Tutul – Rhincodon Typus) that washed ashore on Yeh Kuning Beach in Jembrana had collided with a coral reef before being discovered dead on the shoreline.
The whale shark washed ashore on Friday, 29 September 2023.
Quoted by Detik.com, Setiawan said on Friday, 29 September: "There is a great possibility that the whale shark washed up on the seashore was looking for food when it collided with the coral reef." Furthermore, only a thorough necropsy could answer the whale shark's actual cause of death.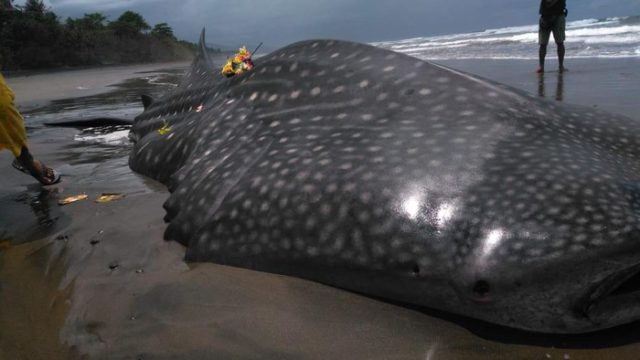 There were no visible wounds on the body of the dead whale shark.
The dead whale shark was only 7.5 meters long – an intermediate length, with some whale sharks measuring 10 meters long. The width of the dead shark measured 3.5 meters.
In June 1023, another whale shark washed ashore at Air Kuning Village in Jembrana.
Whale sharks are protected under the Laws of the Republic of Indonesia.
The shark that washed up on Yeh Kuning Beach showed signs of rapid decomposition, prompting local authorities to bury the whale shark near the beach.
Related Articles
3 Whales Wash Ashore, Dead on Bali Beaches
Sperm Whale Carcass Washes Ashore in Bali
Stay Informed on Bali Tourism-Related News: Subscribe to Bali Update