The infamous Denpasar discothèque Akasaka officially closed and encircled by armored police vehicles since a police raid, and closure in 2017 is back in the news.
The club was raided by police, who took the general manager into custody together with a cache of 19.000 ecstasy pills.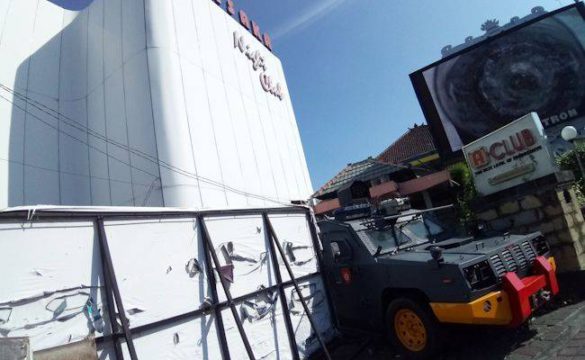 All operating permits for the continuing operation of the Akasaka as a discotheque, bar, or restaurant have now expired with no applications filed for license extensions. The Discotheque was closed by police in 2017, and its licenses revoked in 2018. All the licenses to operate a restaurant, karaoke, and bar expired in 2020.
Denpasar authorities have cautioned that licensing agencies would consider no new applications without a change in ownership, management, and branding from its current status under PT Bali Surya Dewata (Akasaka).
The Akasaka Entertainment Complex located at the six-way intersection (Simpang Enam) in downtown Denpasar was put under seal by Municipal Authorities in mid-2017 at the request of the then Chief of Police, General Petrus Reinhard Golose. On 05 June 2017, before the Akasaka's closure, police arrested the establishment's manager, Abdurahman Willy – alias Willy Bin Ng Leng Keng, on 05 June 2017 and put him on trial for narcotics distribution. Sentenced to 20 years in prison, on appeal, his sentence was increased to life in prison on 08 May 2018.
The seizure of a massive haul of 19,000 ecstasy pills saw many clamoring for Willy's execution before a firing squad.
The Akasaka Complex was placed behind police lines with armored personnel vehicles placed on its approach roads.
With the appointment of a new Provincial Police Chief, the police lines and 24-hour-police presence outside the club have now come to an end.
Police officials have told the press that the location will only be allowed to reopen under the authority of Denpasar Municipal Authorities.
Separately, Nusa Bali reports that Bali's Governor Wayan Koster has told the press that the Akasaka can reopen for business after a four-year closure, providing the new business at the location does not resemble a nighttime entertainment venue. 
The Mayor of Denpasar, I Gusti Ngurah Jaya Negara, confirmed that the owners of the location have yet to apply for a new operating permit.