To celebrate the Indonesian Republic's 75th Anniversary, Bank Indonesia is printing a limited-edition banknote of Rp. 75,000.
Currently, Indonesian paper currency is available in denominations of
Rp. 1,000
Rp. 2,000
Rp. 5,000
Rp. 10,000
Rp. 20,000
Rp. 50,000
Rp. 100,000
Finance Minister Sri Mulyani Indrawati said the issuance of the new banknote was an expression of gratitude for the country's independence and as a symbol of optimism in facing future challenges.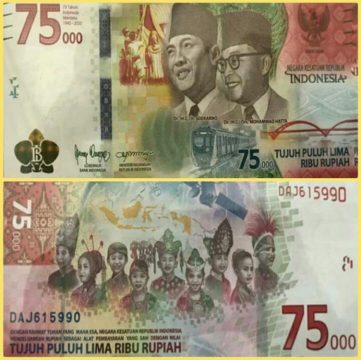 Referring to the current global pandemic, Mulyani added: "I hope that the celebration of our country's 75th anniversary will be a symbol of revival and optimism in facing these extraordinary challenges."
Fittingly pictured on the new Rp. 75,000 bill are the countenances of Indonesia founding Presiden Sukarno and Vice-President Muhammad Hatta.
Also depicted on the new banknote is the hoisting of the national flag on 17 August 1945 and a group of children dressed in traditional costumes. Pictures of major infrastructure achievement on the bill include Jakarta's Mass Rapid Transit System, the Youtefa Bridge in Papua, and the Trans-Java Toll Road.
The new bills have been printed in a limited issuance of 75 million notes of legal tender. The new currency notes will also showcase new security features intended to deter counterfeiting and be printed on a higher quality paper stock to increase the "note-life" of the bills.
Available from Bank Indonesia offices nation-wide, the government is limiting the purchase of the news bill to one note per Indonesian citizen over the age of 17 years. Orders for the new banknote are available from 18 August 2020 for delivery between 18 and 30 September 2020.
A second issuance of the new banknotes will be available while supplies last of the new notes will be available starting from 01 October 2020 from Bank Mandiri, BNI, BRI, BCA, and CIMB Niaga.
Online orders for the banknotes can be placed via the Bank Indonesia Website 
To materialize an order, Indonesia citizens will be required to report to the applicable Bank Indonesia Branch by presenting an Indonesian identity card (KTP) and a "proof of order" printed out from the website.
The Bank Indonesia Manager in Bali reminded the public to wear a face mask and observe physical distancing rules when taking delivery of their new banknote.
On the first day of the program on Tuesday, 18 August 2020, the Bank Indonesia Bali-branch in Denpasar Bali saw 150 new banknotes delivered to 142 citizens.
The first Rp. 75,000 banknote in Bali was handed by the Bali manager of the Bank Indonesia, Trisno Nugroho, to Bali Governor, Wayan Koster, at the Governor's Office in Denpasar.