Russian Woman Deported for Nude Antics at a Balinese Temple.
Bali's Governor Wayan Koster wasted no time in asking the Bali office of the Ministry of Law and Human Rights to deport a 28-year-old Russian woman, Alina Fazleeva, and her 36-year-old husband Amdrei Fazleeva after the woman tourist uploaded nude images of herself modeling in front an ancient tree at the Babakan Temple, in Banjar Bayan, Desa Tua in Marga Tabanan Regency.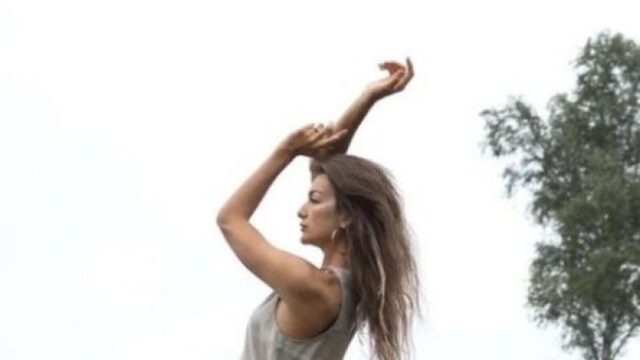 Authorities quickly tracked the couple down following their posting of the nude images. They subsequently apologized and were forgiven by the surrounding villagers – their contrition did little to assuage the Governor's outrage, who summoned the Russian couple, law enforcement, immigration officials, and the press to his official residence on Friday, 06 May 2022, for a press conference and public shaming.
Speaking before the assembly, the Governor emphasized that tourism in Bali operates on the basis of safeguarding local culture and presently a quality product. These guideposts for conserving and protecting Bali's culture are enshrined in Regional Law Perda Nomor 5 Tahun 2020 on standards for conducting cultural tourism and Bali Gubernatorial Law Nomor 28 Tahun 2020 on the management of Bali tourism.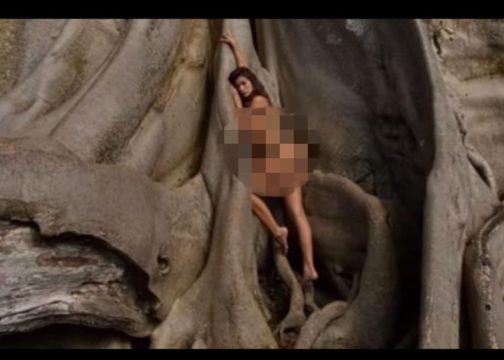 "Bali tourism must be truly honored Bali traditions and culture by everyone, including both domestic and international tourists," proclaimed Governor Koster. Continuing, the Governor said tourism in the new "post-pandemic era" must be transacted with "Nangun Sat Kerthi Loka Bali," – which respects local culture based on quality and dignity. Koster exclaimed that Bali has no tolerance for tourists who commit acts that dishonor and insult Balinese culture. Adding, "We prioritize protecting culture and honoring the dignity of Bali instead of tolerating acts that fail to safeguard the Island and damage the image of Bali tourism."
The mantra of "Nangun Sat Kerthi Loka Bali" also seeks to preserve the purity and natural harmony of nature in Bali.
With the Russian perpetrators of the moral outrage sitting nearby, Koster told those in attendance that Bali presents an international tourism product that must be protected, ensuring it remains orderly and disciplined. He complained that Bali had recently suffered many unethical acts committed by visitors. These include tourists who have bathed at sacred water sources, others who have sat atop Padmansanas (temple), others who have sat irreverently in holy places, and, most recently, a woman who posed nude below a sacred tree. According to the Governor, such actions are humiliating and cannot be tolerated.
"Because of this, I have ordered the head of the Law and Human Rights office in Bali to deport the Russian tourist quickly. This incident must become an object lesson for tourist visitors. Please feel free to visit, but the culture of Bali must be safeguarded, the image of Bali's tourism honored, and the people of Indonesia and their culture revered. For these reasons, I must take firm action, so such an incident does not reoccur in the future and (my actions) become a lesson for other tourists," said Governor Koster.
Governor Koster acknowledged that while the Russian woman had apologized for her actions and was prepared to participate in a guru piduka purification ceremony, this alone would not rectify what she had done.
"Even though (she) has apologized. It is not enough to merely apologize and participate in a ceremony, and the further sanction of deportation must also be imposed. Because we strive to protect Bali's cultural purity, a joint and firm response is needed," said Koster.
Meanwhile, the head of the Law and Human Rights Ministry for the Province of Bali, Jamaruli Manihuruk, said that his department was coordinating the deportation with the Russian Embassy. The Russian couple has been detained by Immigration while awaiting a flight suitable for deportation purposes.
The head of Immigration in Denpasar confirmed that the Russians were deported on Friday, 06 May 2022, for their activities deemed to break the law and disrupt public order (Section 75 of Immigration Law Number 6 of 2011). Manihuruk issued a stern warning: "To all foreigners visiting Bali (are reminded to) always act in an orderly fashion and obey the law and the cultural values of the Balinese people. Please enjoy the beauty of Bali, but if you break the rules, there will be nowhere you can hide, and every violation will be prosecuted following the prevailing law."
The couple has also been placed on a blacklist preventing their return to Indonesia for at least one year. 
The local and national press published news of Russian Alina Fazleeva uploading nude pictures posing under a sacred 700-year-old eucalyptus tree standing in the foreyard of the Babakan Temple in Tabanan Regency on 01 May 2022.
Alina Fazleeva and her husband Amdrei first came to Indonesia in 2020 and again in 2021 as investors to establish PT Art Planet Evolution – a company selling clothing and musical instruments.
Related Articles
Bali Deport 5 Moldavians & 1 Russian
Bali Deported 194 Foreigners in 2021