The 8th Bali and Beyond Travel Fair (BBTF) will take place from 14 June until 17 June 2022 at the Bali International Convention Center (BICC), Nusa Dua, using face-to-face and virtual meetings. The annual travel fair, Indonesia's leading travel industry event, will be held in Bali's leading Indonesian tourism gateway in the throes of a rapid reopening to international travelers.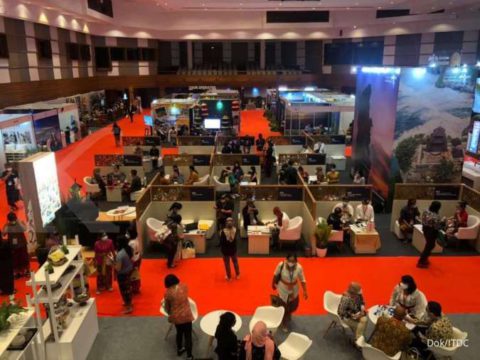 In the lead-up to BBTF, a press conference flagged as "Road to BBT 2022" on Monday, 06 June 2022, saw selected speakers address "Balancing in Harmony" – the theme for this year's event. Speakers shared their perspectives and discuss government regulations on the reopening of Bali to international tourism and the recovery of the Island's tourism economy.
The press event was moderated by the individual in charge of BBTF media coordination, Yoke Darmawan. Speaking at the press gathering were:
Wayan Koster, Governor of Bali.
Ida Bagus Agung Partha Adnyana, Chair of the Bali Tourism Board (BTB)/GIP
Professor Tjokorda Oka Artha Ardana Sukawati, Chair of the Bali Tourism Promotion Board and Deputy Governor of Bali.
Raufik Nurhidayat, Coordinator of Nusantara Tourism Marketing Area I (Sumatra).
Putu Winastra, S.Sos, chair of the Organizing Committee of BBTF 2022.
Oriol Monntal, general manager multi-property vice president – The Westin Resort Nusa Dua Bali.
Organizers are targeting Rp. 5.2 trillion in transactions for BBTF 2022. The chairman of the BBTF Organizing Committee, I Putu Winastra, speaking at the press conference, said the target for this year's event is 22% higher than the target set for BBTF 2021.
Winastra said BBTF 2022's theme of "Balancing in Harmony" will support efforts to rebuild Bali's post-pandemic tourism economy by fostering cooperation with foreign travel operators seeking to send their clients to Indonesia.
BBTF is a B2B international and domestic business forum for the tourism sectors providing information to tourism operators and the public on one of the world's most popular island holiday destinations. Exhibitors at BBTF 2022 will be championing sustainable tourism and products dedicated to health tourism. New Indonesian tourism destinations will also be showcased at BBTF via the promotion of destinations, facilities, and quality service.
BBTF 2022 will emphasize the promotion of ten Indonesian destinations: Jakarta, East Kalimantan, East Nusa Tenggara, West Nusa Tenggara, North Sumatra, Central Java, North Sulawesi, East Java, Bangka Belitung, and Bali. Within these ten destinations are five tourism destinations tagged by the government for prioritization: Toba, Mandalika, Borobodur, Likupang, and Labuan Bajo.
BBTF will expose these fascinating destinations' arts, culture, and unique qualities.
The BBTF is being held against the backdrop of ongoing efforts to diversify Indonesia's economy and reduce the Island's over-reliance on tourism. In addition, the government has declared a future commitment to quality tourism. Indonesia wants to accelerate the development of Bali's tourism sector, dedicating the Island to health tourism, cruise tourism, and MICE (meetings, incentives, conferences, and exhibitions).
Underlying these efforts are also steps to develop the region's infrastructure elements connected to tourism.
BBTF 2022's theme of "Balance in Harmony" has been adopted as the main topic of communication seeking to bridge the revival of the tourism economy in the post-pandemic period.
BBTF expects to attract 181 sellers and 273 buyers from 30 countries, dominated by Australia, India, France, the Philippines, the UK, United Arab Emirates, Germany, Nigeria, the USA, the Netherlands, and Asia.
BALI & BEYOND TRAVEL FAIR (BBTF)
DPD ASITA Bali.
Jalan Raya Puputan No. 41, Renon,
Denpasar Timur 80234,
Bali, Indonesia
Telephone: +62 361 4457111 / 4457700
Online registration and additional information for buyers, sellers, and the media can be found at BBTF's official website .
Related Article