Bali Governor Wayan Koster has promised to invite more direct international flights connecting Tokyo and Denpasar once travel corridors reopen between Japan and Indonesia.
NusaBali reports that Bali's Provincial Government is also seeking greater cooperation with the Nation of Japan in other fields, including energy.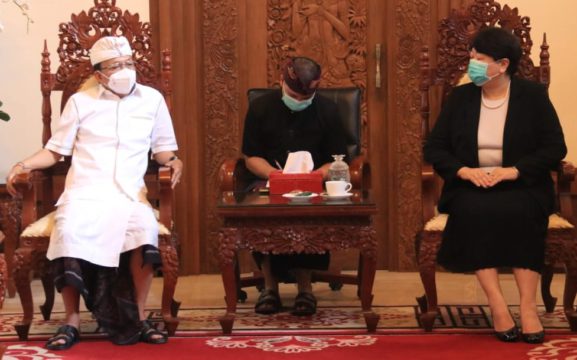 Plans to add direct flight frequencies connecting Tokyo and Denpasar were put forth by Governor Koster during a meeting with the Consul-General for Japan to Denpasar, Katsumata Harumi, held at Kompleks Jaya Sabha – the Governor's official residence in Central Denpasar on Tuesday, 12 January 2021.
The meeting between Governor Koster and Consul-General Katsumata Karumi served as an introductory meeting between the two men on the occasion of Harumi's recent appointment as the Japanese Consul for Japan Bali.
During their initial meeting, Governor Koster revealed that he has also held discussions with the Japanese Ambassador to Jakarta and the national flag carrier Garuda Indonesia to discuss increasing flight capacity between Tokyo and Bali.
Bali and Japan have a long history of cooperation in tourism, economic development, education, and agriculture.
"I hope in the future that current levels of cooperation can be increases because of the many cultural similarities shared by Japan and Bali. The Japanese people value Balinese culture greatly," said Governor Koster.
Koster said the potential exists in other areas of cooperation in sustainable clean energy and mass transportation systems that are environmentally friendly.
Reflecting on the Provincial Government's continuing efforts to bring the COVID-19 epidemic under control, Koster said: "The statistics continue to improve. Our record is outstanding in comparison with other regions of Indonesia. New cases are sufficiently under control with cure rates above 90% – that is the highest in all of Indonesia. Meanwhile, our fatality rate is the lowest."
The Governor gave credit to the Balinese people, who have shown great discipline in following health protocols. This has been made possible, claims the Governor, because of the traditional villages' involvement in supporting close compliance with health protocols.
At the meeting, the Consul-General for Japan in Bali, Katsumata Harumi, said he was favorably impressed with how Bali controls COVID-19. Adding: "The initiatives undertaken by the Governor of Bali have been very helpful in preventing the widespread new infections. I can assure you that the Japanese living in Bali will conform to all the regulations and recommendations issued by the Provincial Government of Bali. Safety is our top priority."
Harumi also offered his assurances that Bali will remain a leading tourism destination for the Japanese on holiday. "Bali has a rich culture and artistic life. It's is also a place of rich natural beauty. Many Japanese love Bali. I will be doing my best to help Bali recover in the future," said Harumi, who once served as the Japanese Ambassador to Vanuatu.
Related Article
Bali Eager to Welcome Japanese Visitors
Bad Cops Demoted, Jailed, & Forever Defiled