Emergency Response Situation – Status Tanggap Daruruat Declared
The Mayor of Bali's capital city of Denpasar, I Gusti Ngurah Jaya Negara, has formally declared an Emergency Response Status (Status Tanggap Darurat) in connection with the fire at the City's largest rubbish dump – TPA Suwung that has burned since Thursday, 12 October 2023.
As reported by NusaBali.com, the Emergency Response Status has been implemented to optimize efforts to control the fire scene, anticipate a possibly worsening situation, and preserve public order.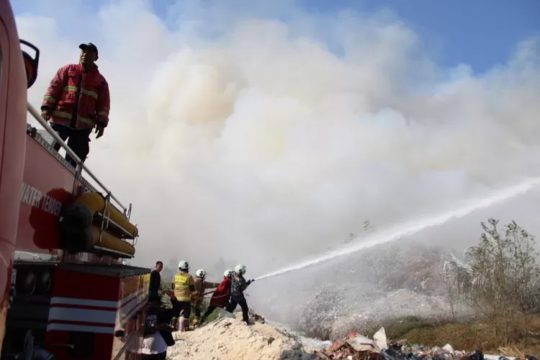 The Emergency Response Status was explained by Mayor Jaya Negara when reviewing the fire location at TPA Suwung on Friday, 13 October. Attending the coordination meeting were Deputy-Mayor I Kadek Agus Arya Wibawa, Chief of Police for Denpasar Commissioner Bambang Yugo Pamungkas, Municipal Secretary for Denpasar Ida Bagus Alit Wiradana, leaders of local public organizations, and community leaders. Discussions were held on optimizing firefighting efforts, plans to address public health issues, and alternatives for handling trash disposal during the fire.
Mayor Jaya Negara said the Emergency Response Declaration was necessary because of the continuing fire at TPA Suwung. Currently, there are 17 fire trucks attending the fire from Denpasar, Badung Regency, Tabanan Regency, and Gianyar Regency. A Water Canon from the Provincial Police Headquarters is also operating at the fire.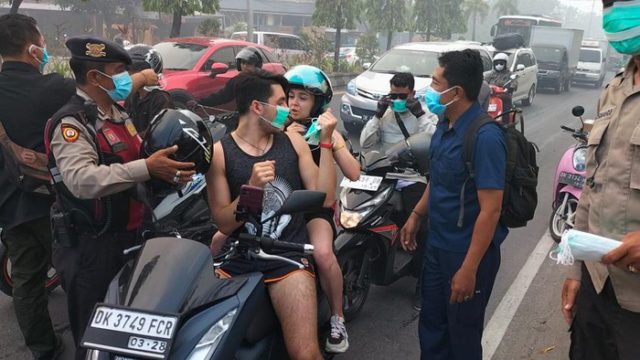 Jaya Negara also confirmed that a water-bombing helicopter from the National Disaster Mitigation Agency (BNPB) was being used against the fire. Water is being directed at the fire on a 24-hour basis, fire breaks have been constructed, and temporary water reservoirs are placed near rubbish accumulation points to infuse the sub-terrain areas with water.
Jaya Negara has also instructed all agencies to cooperate in handling the impact of the fire. Health Posts have been set up, face masks distributed, and special traffic control systems put in place. The Mayor added: "We have also coordinated with the Village Heads in three areas, namely Pedungan, Sesetan, and Serangan, to socialize needed information to their communities. Any complaints of respiratory distress are immediately referred to local health centers.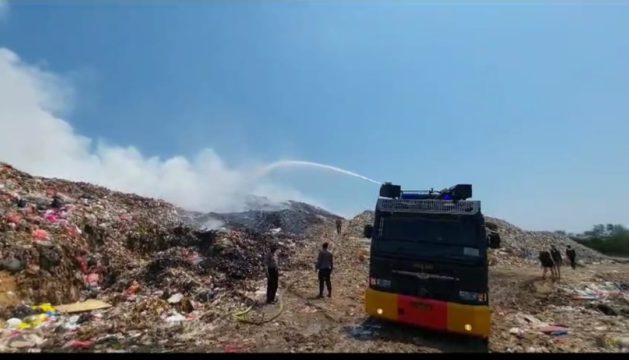 On Friday evening, 13 October, Balidiscovery.com noted that the atmospheric conditions along sections of Ngurah Rai Bypass, just east of the fire zone, were affected by a heavy smoke haze decreasing visibility on the roadway.
Rubbish pickup in some areas of Denpasar is being disrupted because of limited access to TPA Suwung. Officials are diverting trash to alternate TPAs and new rubbish disposal facilities in Denpasar.
Related Links
TPA Suwung Fire Not Affecting Bali Airport 
Stay Informed on Bali Tourism-Related News: Subscribe to Bali Update