A fire that broke out at Bali's largest rubbish tip – Suwung TPA, at 11:30 a.m. on Thursday, 12 October, continued to blaze on Friday morning, 13 October 2023.
According to the operational chief of the Bali Provincial Disaster Mitigation Agency (BPBD-Bali), Made Rentin, plans are underway to commence "water bombing" the fire on Friday.
On Friday morning, Rentin posted to WhatsApp: "The latest update on the fire at TPA Suwung is that efforts to extinguish the flames continue. A team is on standby at the command post (posko) to monitor conditions as they develop."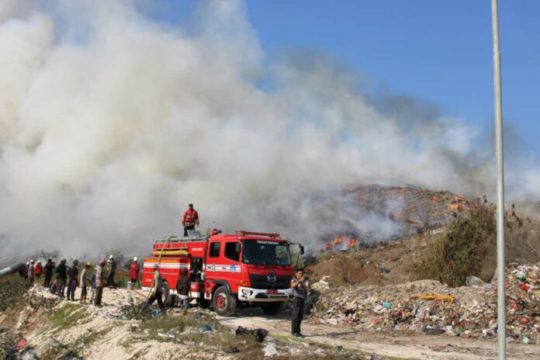 Rentin confirmed that water bombing would be undertaken following the National Disaster Mitigation Team (BNPB) guidance.
BaliPost.com reports that the fire initially broke out on the southern part of the waste dump (TPA). Strong winds and high temperatures are helping to spread the fire to other areas and grassy areas surrounding the facility. Firefighters are facing special challenges as the fire spreads to involve the western area of the TPA, threatening nearby residential areas. Six fire trucks deployed from Denpasar, Badung Regency, and Gianyar Regency are spraying water to prevent the blaze from expanding and covering an area estimated at nearly seven hectares. A loader and four excavators are also in use to create temporary roads and provide firefighters access to the fire.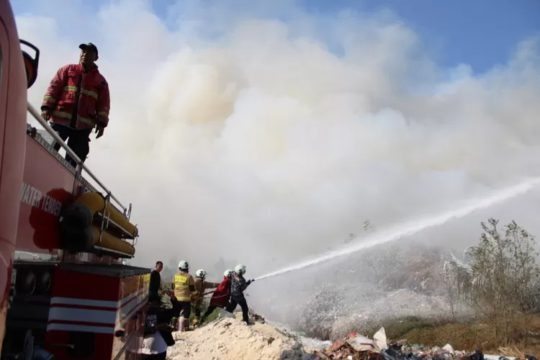 Rentin said Bali's prolonged drought and high winds created conditions well-suited for the current fire to start and spread.
The fire has created large clouds of smoke on the approach and departure patterns of Bali Ngurah Rai International Airport and adjacent to the Benoa entrance of the Bali Mandara Toll Way. To date, public access mobility remains unaffected by the fire.
The fire has spread to an area only 75 meters away from the newly constructed Coordinated Waste Disposal Plant at Tahura Ngurha Rai (TPST-Kertalanggu).
Quoted by the State News Agency Antara, the general manager of the Ngurah Rai International Airport, Handy Heryudhitiawan, stated: "Regarding the fire at TPA Suwung, I can advise in collaboration with the Air Navigation Agency (Airnav), visibility at the airport remains clear."
On Friday morning, 13 October 2023, the winds in south Bali are blowing at 8 kilometers per hour from the east-southeast, carrying the fire's smoke to areas over nearby Denpasar. Winds are occasionally gusting to between 16 and 25 kilometers per hour.
The Suwung TPA covers an area of 32 hectares, comprised of a northern sector of 10 hectares and a southern region of 22 hectares. Currently, 30% of the southern regions – equivalent to 6 or 7 hectares, are on fire.
Meanwhile, TPA Suwung continues to operate normally, with rubbish trucks accessing the eastern region of the facility to dispose of waste.
Two ambulances are on standby at the TPA.
Related Links
Bali's Main Rubbish Tip Closed During G20
Stay Informed on Bali Tourism-Related News: Subscribe to Bali Update