The fire on the slopes of Bali's sacred Mt. Agung that raged since Wednesday, 27 September 2023, was finally contained on Sunday, 01 October 2023.
As reported by NusaBali.com, the Operational Chief for Bali's Disaster Mitigation Team (BPBD-Bali), I Made Rentin, has confirmed that the fires burning in the areas of Dusun Belong and Desa Bam in the Kubu District were brought under control on Sunday, 01 October 2023, by Rapid Response Teams from the Provincial and Karangasem BPBD working together with local farmers.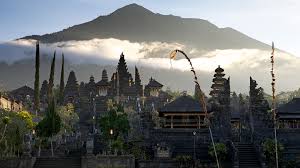 On Sunday, 01 October 2023, more than 70 members of the Cemara Pikat Farmers Association (KTH) struggled side-by-side with BPBD firefighters to put out the fires on the mountain's slopes at 836 meters. "The public and local residents have enthusiastically embraced community cooperation in extinguishing the fire on more than 5 hectares in Dusun Belong," said Rentin on Sunday.
Rentin relates how, at one point in fighting the fires, strong winds hastened the spread of the fire, causing residents to retreat from the fireline temporarily.
A trail that transected the area acted as a fire break, delaying the fire's advance. Due to the remote location of the fire and the lack of modern equipment, residents used shovels, dirt, bundles of twigs, and even bottled water to fight back the flames.
The brave, untrained firefighters were forced to fight fatigue, heavy smoke, and the challenges of breathing at high altitudes to overcome the blaze.
The sizeable joint task force had managed to turn the tide. It brought the 5-day fire under control by around 3:00 p.m. on Sunday, with firefighters continuing to put out flames in Dusun Bantas, Desa Baturinggit. Small fires continue appearing in other areas of the Kubu District, such as Dusuan Junta, Dusun Bantas, and Desa Baturinggit, where officials cooperating with residents handle them.
Drought Forecasts
The District III – Denpasar Metereology, Climate, and Geophysics Agency (BBMKG) has designated five areas on the Island of Bali that are extremely draught-affected because these areas have experienced no rainfall for the past 90 days.
The Head of the Data and Information Section of BBMKG in Denpasar, I Nyoman Gede Wirajaya, explained that monitoring has identified five fire-prone extreme drought areas in Bali. The regions and the length of time with no rainfall are:
Kubu in Karangasem Regency – 90 days without rain.
Kubutambahan in Buleleng Regency – 89 days without rain.
Kintamani in Bangli Regency – 84 days without rain.
Gerogak in Bulelelng Regency – 84 days without rain
Melaya in Jembrana Regency(?)
Related Link
Mt. Agung Fire Now Covers 5.2 Square Km
Fires Rages on Slopes of Bali's Mt. Agung
Facilities Upgraded at Pura Agung Besakih
American Dies Climbing Bali's Mount Agung
22 Bali Mountains Closed to Climbers
Facilities Upgraded at Pura Agung Besakih
Stay Informed on Bali Tourism-Related News: Subscribe to Bali Update