Luhut Binsar Pandjaitan, The Coordinating Minister for Maritime Affairs and Investment, who also serves as Indonesia's COVID-19 Czar, is taking steps to ensure that Denpasar's Sanglah General Hospital is ready to support Bali once quarantine requirements are abolished.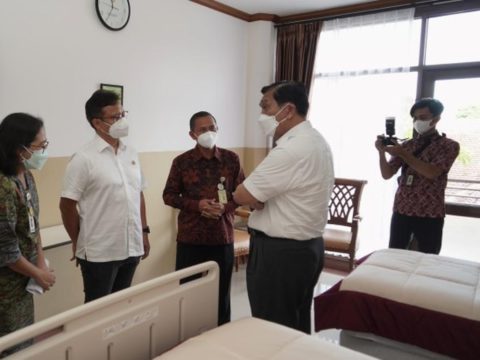 Quoted by the State News Agency Antara, Luhut said that if quarantine requirements are lifted in Bali, the hospitals must be made ready. After visiting the Sanglah Hospital, Luhut said that the facility was "more than ready" to cope with a "zero-quarantine" situation.
During his visit to the Sanglah General Hospital, Luhut made sure that the intensive care unit (ICU), internal medicine department, and cardiology sections were in good condition. Adding: "Well, if this is ready, maybe it will speed up the process. We had discussions earlier with the governor, and all work elements are now integrated. The final word is with the President. We will report (to the President) on Monday on when Bali can be opened without quarantine," he said.
In addition to speeding up the process of upgrading hospital facilities, Luhut said foreign tourists to Bali are not allowed to use sponsored visas sponsored by third parties. Meanwhile, the visa on arrival (VoA) will be reactivated soon. The Minister said that sponsored visas would not be used in the future with the reactivation of the visa-on-arrival system.
Separately, the Minister of Health, Gunadi Sadikin, assures medical facilities in Indonesia are prepared to support Indonesia's presidency of the G20 and the G20 Summit set for late October 2022. Speaking in Bali at the Sanglah General Hospital, Gunadi said: "Nationally, there are more than 400,000 hospital beds, 30% of which are allocated for the care of COVID-19 patients. Why only 30%? This is because other patients suffer from heart conditions, cancer, kidney problems, and other diseases must also be treated."
Of the 120,000 hospital beds set aside for COVID-19 patients, 38,000 beds are occupied. This total is far below the occupancy level during the Delta variant surge in July-August 2021, when the number of patients exceeded 100,000. "The need for care rooms in hospitals is much lower than during the Delta variant surge, and I am therefore not too worried about the requirements during the G20 Summit," said Gunadi.
Related Link