Well-known among Bali residents and frequent visitors: the one-of-a-kind dining venue with an equally unique name: Gourmet Garage.
Owned and operated by Lotus Food Services – Indonesia's leading l food and kitchen equipment distributor that equips and provisions leading hotels and restaurants across the Country. This unique restaurant forms a critical part of the well-established Lotus Distribution "food chain," leading from the farms and feed lots to the table.
In keeping with this role, Gourmet Garage serves as a demonstration kitchen, product training center, showroom, and a source of pure enjoyment for those who enjoy live cooking displays presented by accomplished cooks working with only the finest state-of-the-art culinary equipment.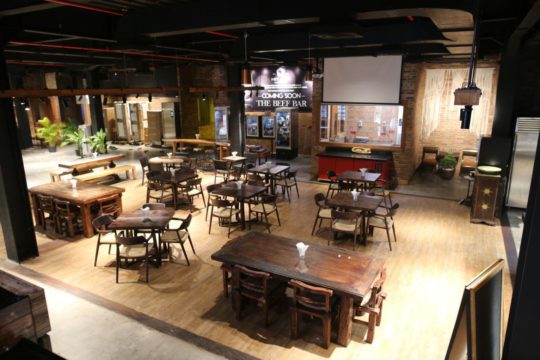 The Gourmet Garage Kitchen is open from 8:00 am until 10:00 pm daily.
Gourmet Garage Menu on Instagram
Gourmet Garage is a top-quality restaurant surrounded by tempting large displays of:
Meat coolers featuring premium cuts from Australia, New Zealand, and the USA, and locally-raised imported beef stocks: range, grass, or grain-fed.
An entire area dedicated exclusively to "aged beef" presented in special curing coolers boasting a selection including Wagyu, T-bone, Tomahawk, prime rib, filet mignon, and New York Sirloin.
An exhaustive supply of spices and cooking ingredients.
Fresh produce and fruits are sourced locally and imported by air.
Cheese and dairy products.
Fresh bread and baked goods.
A tempting selection of homemade Gelatos.
Imported local and imported wines comprise the most comprehensive selection available on the Island, sold at attractive wine shop prices. A growing selection of imported liquors and spirits have recently been added to Gourmet Garages' beverage offerings.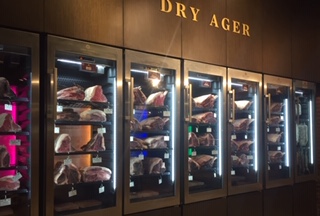 Bali's Best Value and Ultimate Dining Experience Await
Perhaps one of the best features of this unique Bali dining venue is the ability to "mix and match" – creating your own personal menu directly from the well-stocked shelves and meat coolers that encircle the restaurant's perimeter.
While Gourmet Garage's extensive menu has an almost limitless choice of items to select from, feel free to grab a shopping basket and survey the exhaustive range of fresh produce on display and ask that these items be cooked and brought to your table. Then it's time to chat with one of Gourmet Garage's butchers and place a steak order cut to your exact specifications that will be roasted and grilled to perfection in the Gourmet Garage's open kitchen.
All beef cuts are attractively priced at levels generally available only to commercial establishments. Those wishing their meat selection cooked to order in situ incur an additional Rp. 55,000 grilling charge. And, for those who prefer their meat with sauce, black peppercorn and mushroom sauces are also available. Select your preferred side dishes from the main menu.
We've saved the best part for last! Gourmet Garage also offers the broadest range of wines on the Island, sold at attractive wine shop prices and served for diners without additional corkage charges. What's more, a selection of premium wines is also available by the glass.
What's not to like.?
Located only 50 meters off Jalan Bypass Ngurah Rai on the Jalan Batas Kangin, immediately behind the Lotus Enterprise Building, Gourmet Garage provides ample off-street parking.
Gourmet Garage – Hospitality & Training Centre
Jalan Bypass Ngurah Rai 18
Jimbaran
Telephone for Reservations: +62-(0)361 4463514 WhatsApp +62-(0)811 3820 3354
Lotus Food Service/Gourmet Garage Website
Related Article