Bali's only toll road, connecting Sanur – Benoa – Airport – Nusa Dua, is undergoing a "green revolution.'
The assistant manager for operations and maintenance for PT Jalan Tol Bali Mandara (PT JBT), I Putu Gandi Ginantra, said the "greening" of the toll road was 90% complete as of the third week of February 2022.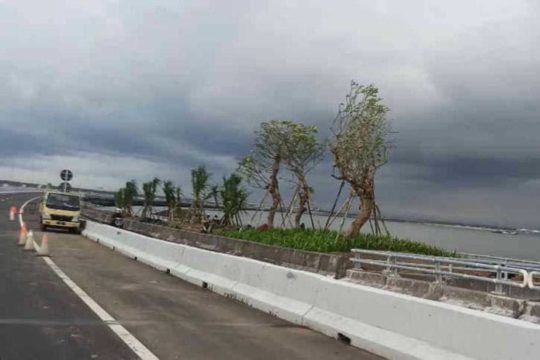 Among the areas planted with foilage on the toll road are the entrance areas at Benoa, Ngurah Rai Airport, and Nusa Dua, where bougainvillea trees now stand. Meanwhile, the road's edges are planted with Kamboja Trees (Jepun Bali), Cabbage Trees (Pandan Bali), and Spider Lily plants. PT JBT engaged a professional consultant to select plants suitable to the local environment – strong and hardy trees that pose no threat to safety for motorists.
Four mysterious "anticipatory" structural lips built at the time of the road's construction in 2012 and widely presumed to be part of a once secretive plan to connect the roadway to a large area of an "official" conservation area in Benoa Bay have now been filled with soil and planted with trees. The controversial reclamation plan – promoted by Indonesian businessman Tommy Winata who secured changes in the conservation status rushed through in the final months of President Susilo Bambang Yudhoyono's term of office. The plan to build a luxury tourism project on reclaimed land in Benoa Bay sparked unprecedented public protests in Bali, causing the project's abandonment by the government.
Recoating barriers, curbs, and lamp posts along the roadway are among the finishing touches in the "greening" of the toll road.
549 lamp posts along the entire toll road are in the process of being recoated and adorned with Balinese ornamentation to be affixed to the lamps.
Solar panels now operate at each toll terminal and 6 locations along a 6-kilometer stretch of the road. Plans are to make the entire toll road reliant on solar energy.
The current road servicing also includes scraping, filling, and re-asphalting, as required, to remedy rough and uneven sections of the tollway. Expansion joints are also undergoing inspection and servicings. A 1.2-kilometer section between the Ngurah Rai round-about and the Ngurah Rai toll booth is undergoing hardening.
The current substantial maintenance and beautification program on the toll road is scheduled for completion by July, well in advance of the G20 conference coming to Bali in late October 2022.
Related Articles
Bali Toll Road Rates to Increase