A 29-year-0ld Englishman, Adam Alexander Murray, did not need to wait long for his day in court after assaulting an Indonesian police officer in Denpasar, Bali, on the morning of Monday, 18 September 2023.
Only four days after the incident, Murray stood before a panel of judges charged with pushing and slapping Police Inspector (Aiptu) Puji Santoso during a routine traffic stop in front of the streetside police post on Jalan Sunset Road.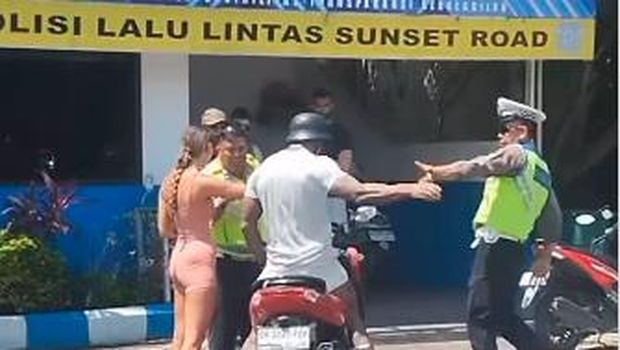 Police stopped Murray and his female passenger for failing to wear a helmet while operating a motorcycle, as the law requires. A female companion riding pillion on Murray's motorcycle, identified only by the initials MMJL (23), was not charged in the incident.
Police say Murray initially tried to evade being stopped by police and engaged in an altercation with the policeman in which he shoved and tried to slap Officer Santoso. The incident was captured on camera and uploaded widely on social media.
A short while later, Officer Puji Santoso filed a formal complaint with the Criminal Division of the Denpasar Police, leading to the arrest of Murray at a Villa in Canggu on Tuesday, 19 September 2023, at 8:00 pm.
The Provincial Bali Police Spokesman, Police Commissioner Jansen Avitus Panjaitan, confirmed that the English man had gone on trial and was found guilty of assault and sentenced under Section 352 of the Indonesian Criminal Code (KUHP Pasal 352) to one month's confinement and a probationary period of three months.
According to Radarbali.com, Murray will avoid spending any time behind bars but will only be under strict police supervision for one month. If any criminal act is committed during his sentence, he will be immediately remanded to jail for one month without further trial.
Murray has been immediately handed to Indonesian immigration officials, where he faces a separate charge of disturbing public order for which he is expected to face deportation and black-listing from re-entering Indonesia for years.
Related Articles
Bali Unites to Rein in Errant Foreigners
194 Foreigners Deported from Bali in 2022
Stay Informed on Bali Tourism-Related News: Subscribe to Bali Update